TAG ARCHIVES: Zoë Foster
---
If you're an Aussie beauty blogger you know about PRIMPED.COM.AU that was started by Zoë Foster many years ago.
Since then things have changed hands and how it's Yasmine Trollope (née Turker) to take over the reigns of editor.
I was introduced to Yaz's blog by a friend and fellow blogger Div of Severed Sparkle.
I have to say this blog has been my favourite in the last few weeks because it's full of healthy vegan food recipes and little beauty tips along the way.
If you you're not familiar with The Happiness Cocktail I suggest you take a look and follow NOW! You won't regret it, I promise!
---
I was telling my best friend a few weeks back that I was dying for something new to read. It just so happens one of my favourite authors Zoë Foster had just written a book and was due for release at the end of February.
I quickly pre-ordered her new book The Younger man from Booktopia.com.au and in the meantime was looking autobiographies. I came across Tori Spelling's books and strangely became compelled to read them. I've never really thought much of her, but I thought it might be an interesting read… for the sake of reading I suppose.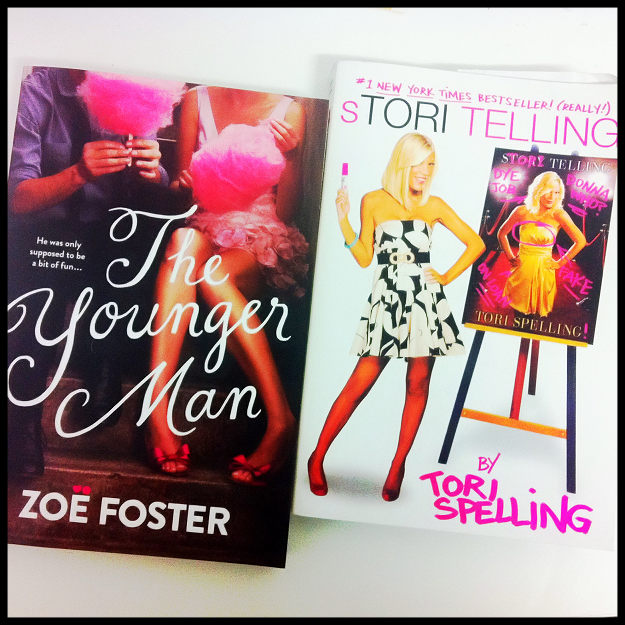 I got both books on Valentine's Day. My order came through and my boyfriend gave me
sTORI Telling
as part of my Valentine's gifts.
I've started reading Tori Spelling's booking first and at the moment I'm already 1/3rd of the way in. So far… it's OK. The first chapter makes her sound like she's a poor girl stuck in a rich girl's life. But its still early on. I've still got 3/4th of the book to go.
Very much looking forward to reading Zoë Foster's book though.
---
1. A lady shall carry no more than three lip products in her handbag at one time; even if she believes she needs all nine of them, every day.
2. A lady will always remove her makeup, even it is 3:46AM and she feels herself falling asleep on her bed, fully clothed, phone in hand, (mid-text), nibbled 7-11 sausage roll in the other.
3. A lady will not tell her hairdresser she uses regular masks, because A) her hairdresser will be able to tell and B) she does not use regular masks.
4. A lady will remain calm when she travels to a country where self-tanning is not as revered as it is in Australia ("doesn't exist"), and she didn't pack any because she was convinced she'd find some once she arrived.
5. A lady will always check her lipstick is perfectly intact after: eating, drinking, talking for extended periods, making out with hunks, being at a Hen's night and sipping Red Bull through male genital-shaped straws.
6. A lady will refrain from using dry shampoo to "clean" her fair for more than three days in a row, even if she is running extremely late for work and fedoras are not encouraged at the office.
7. A lady must wear whatever nailpolish shade delights her, even if her boyfriend claims it looks like, "she's been digging around in a concrete grinder."
8. A lady may occasionally buy yellow, red or lime green eyeshadow when she is pre-menstrual, so long as she knows she must never wear it.
9. A lady must not swear more than 12 consecutive times when her hair styler or curling tong nips her next, leaving a painful Vanity Burn.
10. A lady may aspire to a famous celebrity's hair colour, cut and style, using it for inspiration at the salon and when styling, so long as that celebrity is not Helena Bonham Carter or Justin Bieber.
Words by Zoë Foster
We will miss you at Primed.COM.AU Zoë!