TAG ARCHIVES: Q & A
---
Q. What are some beauty tricks you suck at?
A. There are so many things I don't do very well. Where do I even begin!


READ MORE
---
I love finding tags and memes to include on my blog because I find that you get to know me a little better and I'm not so "textbook". I copied from Natalia's video on her YouTube channel, which I recommend everyone subscribe to immediately because she does some great reviews on there and is also part of the Lipstick Republic Beauty Squad family.
If you've done this tag or plan on doing it, please let me know so I can check yours out.
Enjoy!
SKINCARE
How many times do you wash your face daily?
Twice a day. In the morning, when I wake up and in the evening, usually in the shower. I often do my five minute skincare routine in the evening, which I highly recommend everyone doing.


READ MORE
---
Q. How do you wash your makeup brushes? How often should you wash them? Why do I need to wash them? What is your favourite brush? And what products do you use to wash them in?
READ MORE
---
Q. I hear so much about Rosehip Oil. What is it? And why is it such a big deal?
A. Well, Rosehip Oil isn't that much of a big deal if you don't care about your skin or don't have a set skincare routine.
Rosehip Oil comes from the rose pod or seed after the petals have fallen off, so when you first smell it don't be surprised that it don't smell very rosey.


READ MORE
---
This often happens. I'm home and get distracted thanks to social media and YouTube. I then come across memes that I think are interesting and think people would be interesting in knowing about me.
Hope everyone had a fabulous weekend! Rx
Your favorite virtue. Compassion.
Your favorite qualities in a man. Dedication & commitment.
Your favorite qualities in a woman. Strength & patience.
Your chief characteristic. Generosity.
What you appreciate the most in your friends. They are consistently unconditional.
Your main fault. I can't take NO for an answer.
Your favourite occupation. Creation.
Your idea of happiness. Infinite love.
Your idea of misery. Loneliness.
If not yourself, who would you be? A ragdoll cat in Paris.
Where would you like to live? In a romantic city.
Your favourite colour. Tiffany blue.
Your favourite flower. Sweet pea & Jasmine. (Yes, I picked two.)
Your favourite bird. Flamingo.
Your favourite prose authors. Edgar Allan Poe & Ludwig van Beethoven.
Your favourite poets. Shakespeare.
Your favourite heroes in fiction. Spiderman.
Your favourite heroines in fiction. Cinderella.
Your favourite painters. Vincent Van Gogh.
Your favourite composers. Pyotr Ilyich Tchaikovsky.
Your heroes in real life. Dad, Adrian Bailey & CGH ♥.
Your favourite heroines in real life. Marilyn Monroe & Zoe J. Campbell ♥.
What characters in history do you most dislike. Heartbreakers.
Your favourite in World history. Cats.
Your favourite food. Sushi.
Your favourite drink. White Rose tea.
Your favourite names. Jason.
What I hate the most. Clowns.
The military event I admire the most. Anzac Day.
The reform I admire the most. Equality for women.
The natural talent I'd like to be gifted with. Height.
How I wish to die. Happy & asleep.
What is your present state of mind. Lonesome.
For what fault have you most toleration? Rudeness.
Your favourite motto. Break the rules. Forgive quickly. Kiss slowly. Love truly. Laugh uncontrollably. And never regret anything that made you smile.
---
I stole this off a beauty blog on BlogLovin and of course, I forget which one. (I suffer from multiplechrometabitis, so it's almost impossible to track down which blog I took it from.) So, I'm sorry whoever's blog I took it from. I will give credit next time!
So, 15 random questions about moi…
1. What do you think you can do but can't?
Legally drive.
2. What's a difficult word for you to pronounce?
My surname. But then again, it can be pronounce phonetically and you'd be saying it right.
3. What is a favorite TV show from your childhood?
Besides Sesame Street, Rocko's Modern Life!
4. What are your virtues and vices?
This one was a little tough for me, but… I think my virtues would be that I will apologise first when I'm arguing with someone and I actually don't like arguing. We'll have it out, separate and then when I've calmed down I'll go ahead and apologise first. I'm sure the people closest in my life with say otherwise, but for me, that's how I see it.
And as for vices, well I'm really stubborn when it comes to certain things. So, if I truly believe that the sky is green there is not convincing me otherwise. HA!
5. What's more important: love, fame, power, or money?
For me, definitely fame isn't important to me. Power… yeah, not very important either. But as for money and love – they're a little bit equal. But I think for the sake of this I'll pick love.
6. If you could live in any era/time period, when would it be and why?
1930′s or 40′s. Back then women were flawless and effortlessly beautiful (think Marilyn Monroe), the men were actually gentlemen and life was simple. You worked hard, you got married, had kids and lived a happy life. There was no fear, worries or concerns.
7. If you had to redo your entire wardrobe with 2 stores, what would they be and why?
A mix of Alannah Hill and Cotton On. Alannah Hill has beautiful elegant ladylike dresses, which I love! And Cotton On for the basics. Plus, cotton is always good.
8. Can you recall what you were doing a year ago on this day?
Not really. But I know I was living in Melbourne, loving it and working in the best job I've ever had, so I can't imagine it would have been a bad day.
9. Do you have reoccurring dreams? If so, explain?
No. Not recently. Thank goodness.
10. What's your horoscope?
Virgo. And as much as I try to defy it, I am exactly what they say a Virgo is.
11. What does your dream bedroom look like?
A mess.
12. What position do you sleep in?
I'm a tummy sleeper, which isn't good at all!
13. Who is your favorite vampire of all time?
None. I'm not a fan of vampires.
14. What are you currently wearing on your feet?
Black with silver badging Havaianas. Judge away!
15. Do you have neat handwriting? Show us!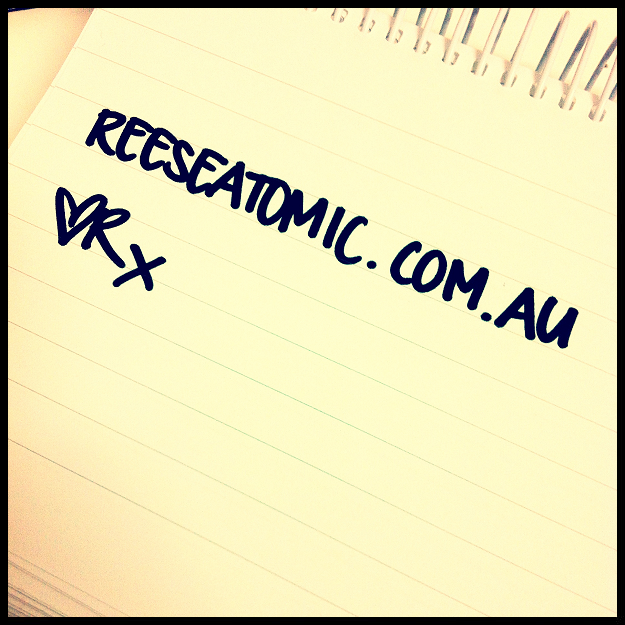 ---
1. What's your favorite nail polish company?
I love OPI and Butter LONDON. OPI is just the go-to brand and you can find it pretty much anywhere with all different shades. And Butter LONDON because they're unique, flawless and vegan.
2. Glitter or no glitter?
Glitter is OK, but I like the subtle shimmer in the lacquer. I do own nailpolish that has big chunks of glitter, but I don't really wear them often.
3. OPI, China Glaze or Essie?
OPI, hands down!
4. When do you switch your nail polish?
Once a week usually. Even if I wear the same colour I will do a clean and file down once a week.
5. What is your favorite color on your nails?
Bright hot pinks and warm toned neutrals.
6. Darks or brights?
Brights for sure. Darks makes me look too gothic because of my skin tone.
7. What are you wearing on your nails right now?
NOX Twilight nail lacquer in 'Crush'.
8. Matte nails in or out?
They're interesting. I haven't tried them myself and I haven't seen many girls sport it. I don't think I could say they're in or out.
9. French manicure?
Yes, but they have to look natural. I can't stand nails that look too square. It looks odd and I refuse to believe that natural nails can ever be shaped that way.
10. Favorite winter nail polish?
Neutrals, warm reds or peach/corals for sure.
---

What is your most inexpensive product?
Probably Burt's Bees Beeswax Lip Balm. Around $6 and is so good for your lips.
What is your most expensive product?
Pretty much anything by MAC. It's so expensive in Australia. Lipsticks are $33!
What beauty item do you have the most of?
Lip balms, hands down! I have them all over the house and places I regulate, like my boyfriend's house, office desk and work desk. And it varies a lot.

What beauty product do you have a love/hate relationship with?
Tinted moisturiser. I use KORA Organics Tinted Moisturiser and I love it because it has sunscreen in it but at the same time I don't like the tint in it. The tint is fine and works well with my complexion but just sometimes it gets on my nerves.
What has been the hardest to find?
OCC nailpolishes! OCC doesn't ship nailpolishes to Australia and there aren't many online stores that stock OCC, let alone their polishes. Someone please ship OCC to Australia!!
What is your biggest beauty pet peeve?
There are a few but I can't stand girls who over-puck their eyebrows. I don't get it. Thin eyebrows makes you look older. So a beautiful 17 year-old girl with thin eyebrows can easily look 37. Also I can't stand when girls wear heavy eye makeup and a bold lip colour. One of the first rules of makeup is to not over do it; pick either your eyes or lip to make a statement on and make the other subtle. So, if you're going for a smokey eye, dull down the lips with a nude. Or have light makeup on the eys and brighten the lip. Not both at the same time.
What are your most delicious beauty products?
I like the NYX Soft Matte Lip Cream. I find that it smells like cupcake batter. Other than that I love anything that smells like watermelon.
What beauty product can't you get enough of?
KORA Organics. I swear by the entire skincare range. I particularly love the daily hand cream, the lip balm and the purifying day and night cream.
What beauty product use the most?
Lip balm. I always feel the need to have something on my lips.

What beauty product do you neglect due to laziness?
It's not due to laziness, but because due to having a bad memory – sunscreen. There have been sometimes I've forgotten to apply it because I'm in a rush or something, but I normally do wear it. It is extremely important to wear especially when you live in Australia.
What beauty routine do you find the most challenging?
Getting waxed and my hair cut/coloured. Again not because of laziness but to find the time to get down to the salon to get all that stuff done.
What beauty routine are you guilty of not doing properly?
Foundation. I can't do it to save my life. Lucky for me though, I don't need to wear it most of the time. And because I don't have to wear a lot of foundation I haven't really bothered to learn how to perfect it.

What beauty product gives you the most confidence?
A really nice eyeliner. Doesn't matter if its liquid or pencil, it just has to be good and something I can work with and won't melt off my face.
What beauty product do you swear by?
KORA Organics, Burt's Bees and a really good lipstick. Good skin, good treatment and some colour. Can't go wrong there.
What beauty product do you insist on having in your makeup bag?
There's a few. Burt's Bees Beeswax Lip Balm, a lip liner and a lipstick. Also, a small travel case of makeup wipes aren't bad either.
What attributes do you find most attractive about the opposite sex?
This isn't really a 'beauty' question, but I'll still answer it. I'm going to sound so weird when I say I love guys with nice straight teeth. So many of my friends don't understand it but dental hygiene is a must for me.
What is the one product you can't live without?
A good skincare range. I can live without the colour and the grooming, but unlike the makeup my skin is something that I'm going to be living in for the rest of my life, so its best to look after it.
What beauty product is your most loved?
Besides my Burt's Bees, I love KORA Organics Daily Hand Cream. I can't get enough of it. The smell, the texture and how it makes my hands feel afterwards. Love.
What item would you most like to receive as a gift?
I'd love to get some OCC nailpolishes. Particularly Pool Boy. Also the Naked2 palette by Urban Decay.
What beauty product do you wish you could pull off?
A nude lipstick. Any sort. Pinky nudes, peach nudes… I wish I could pull any of them off but I can't. Kinda sucks when you're entire face is monotone.
What beauty attributes do you wish you had?
I don't really wish I had anything. I mean, I work with what I got. But I would love a pretty beauty mark like Marilyn Monroe or something like that. And NO, getting a Monroe piercing is not an option because I hate surfave piercings.
---
I found this on an old blog and thought it would be interesting to do this again…
1. TEN YEARS AGO (2002)
I was finishing my last year of high school. Yes, I just totally gave away how old I am. HA!
2. FIVE YEARS AGO (2007)
I was partying – a lot! Four days a week with no intention of slowing down. I had just ended my relationship with my first love. Travelled a lot interstate… to party.
3. ONE YEAR AGO (2011)
Living in Melbourne and had just flown back from Sydney after three weeks of bliss for Christmas and New Years on the East Coast. Working at the famous Children's Hospital and absolutely loving it. By far the best job I had ever had.
4. YESTERDAY (FRIDAY, JANUARY 13TH, 2012)
Black Friday. Last day of the working week. Stayed over my dude's house, worked and then got my haircut. Despite everyone saying that Friday the 13th is a "bad luck" day, I had a rather great day.
5. TODAY (SATURDAY, JANUARY 14TH, 2012)
Listening to Jason Mraz's 'I Won't Give Up', drinking a soy mocha and trying to figure out a new layout for this website, and failing miserably. I just can't read HTML properly anymore.
6. TOMORROW (SUNDAY, JANUARY 12TH, 2012)
More work. Maybe see friends. Who really knows.
7. FIVE SNACKS I ENJOY:
(1) Crunchie chocolate bar.
(2) Organic pecans.
(3) Ice-cream/getato.
(4) Red Velvet cupcakes.
(5) ***.
8. FIVE BANDS I KNOW THE LYRICS TO MOST OF THEIR SONGS:
(1) Michael Jackson.
(2) Linkin Park.
(3) Hanson.
(4) No Doubt.
(5) The Cure.
9. FIVE THINGS I WOULD DO WITH $100,000,000:
(1) Invest HALF!
(2) Buy a house in Sydney and in Melbourne.
(3) Give away some to family.
(4) Travel all over the world.
(5) Buy another cat. A boy cat and name him something nautical.
10. FIVE LOCATIONS I'D LIKE TO RUN AWAY TO:
(1) Melbourne.
(2) Verona, Italy.
(3) Cannes, France.
(4) Disneyland.
(5) Japan.
11. FIVE BAD HABITS:
(1) Biting my nails.
(2) Over-analysing EVERYTHING.
(3) Procrastinating.
(4) Being nice to horrible people.
(5) Over spending.
12. FIVE THINGS I LIKE DOING:
(1) Making out!
(2) Sleeping.
(3) Laughing.
(4) Shopping.
(5) Playing with makeup.
13. FIVE TV SHOWS I LIKE:
(1) Family Guy.
(2) American Dad!
(3) Dexter.
(4) Arrested Development.
(5) Neighbours.
14. FAMOUS PEOPLE I'D LIKE TO MEET, DEAD OR ALIVE:
(1) Marilyn Monroe.
(2) Mark Wahlberg.
(3) Channing Tatum.
(4) Braglina.
(5) Katy Perry.
15. BIGGEST JOYS AT THE MOMENT:
(1) Pets: LC and Andre. Cat cuddles and feathery love.
(2) The dude.
(3) A good breakfast.
(4) LOVE.
(5) Laughing.
16. FAVOURITE TOYS:
(1) Instagr.am for iPhone.
(2) Lip balms.
(3) A camera.
(4) iPod.
(5) Bright fuchsia lip colour of some kind.
---
VITAL STATISTICS:
NAME: Reese
NICKNAMES: Reesers, Reesie, Reesling & Cupcake
DOB: September 4
ZODIAC SIGN: Virgo
MALE OR FEMALE: Miss
OCCUPATION: Crazy Cat Lady
APPEARANCE:
HAIR COLOUR: reddy brown
HAIR LENGTH: medium to long
EYE COLOUR: dark brown
BEST FEATURE: lips.. or so I've been told
HEIGHT: 5'2. I really don't know what that is in centermetres
BRACES?: yes. And planning to go in for a second 'round
GLASSES?: yes. Or more to the point, I should be wearing them full-time
BASICALLY..
PIERCINGS: 8
TATTOOS: 8
RIGHTY OR LEFTY: right
YOUR 'FIRSTS':
BEST FRIEND: A boy named Patrick. Our mums used to set up playdates together. We were only 4 but absolutely smitten with each other
AWARD: um.. something to do with great handwriting
SPORT YOU JOINED: gymnastics
REAL VACATION: Queensland
CONCERT: Silverchair Neon Ballroom Tour. Good times!
FAVOURITE:
MOVIE: The Virgin Suicides, Amelie & Reality Bites
TV SHOW: Neighbours, Family Guy, American Dad!, Sex & the City & Dexter
COLOURS: pink, cyan & silver.
SONG: 'Walking on Sunshine' by Katrina & The Waves
CANDY: KitKats & Very Cherry Jelly Belly jellybeans
RESTAURANT: Pancakes on The Rocks, Doyle's Seafood, Well Connected in Glebe
STORE: Inglot, Country Road & Kikki-K
BOOK: If You Have to Cry, Go Outside: And Other Things Your Mother Never Told You by Kelly Cutrone
MAGAZINE: Shop til You Drop & Frankie
SHOES: Havaianas
CURRENTLY:
FEELING: tired
SINGLE OR TAKEN: happily spoken for
EATING: nothing
LISTENING TO: Nine Inch Nails
THINKING ABOUT: books to read
WAITING: to feel sleepy (getting there)
WATCHING: the computer screen?
WEARING: PJs
FUTURE:
WANT CHILDREN?: definitely!
WANT TO BE MARRIED?: as above
CAREERS IN MIND: advertising or writing full-time
WHERE DO YOU WANT TO LIVE?: Melbourne ideally, but the Eastern Suburbs of Sydney will do quite nicely
DO YOU BELIEVE IN:
GOD: not really
MIRACLES: YES!
LOVE AT FIRST SIGHT: YES!
GHOSTS: yes
ALIENS: yes!
SOUL MATES: yes
HEAVEN: no
HELL: no
KISSING ON A FIRST DATE: if he's nice enough, yes
YOURSELF: absolutely!