TAG ARCHIVES: nailpolish
---
I haven't done this in a couple of months but I thought I'd treat myself because I recently become 100% debt-free! Everything I purchased in this post was bought on my cheque account and NOT on my credit card.
---
So, I haven't done these in a while and I thought I'd bring it back this week because these have been my go-to products ALL week. These posts are very rarely all beauty related (like this post) but that's where I've found myself this week. Enjoy!

Sportsgirl's Nail It! nailpolish in 'Silver Glitter', $7.95
This is the most glittery nailpolish I've ever come across. Usually glitter polishes take a few good coats to get enough pay off on the nail, but this product doesn't need much. One coat is plenty for me, just to accent an otherwise plain manicure. I put this on the tips of my nail on top of a neutral shade and I've gotten so many compliments from it. I picked up this look off Pinterest, often found under bridal because of the neutral base, but I just think it works anytime.

1 Skin Solution lip balm in 'Mojito', $8.50
The beautiful Raylene from 1 Skin Solution recently sent me this along with two of the tinted lip balms and this – by far – rocks my world! No words can actually describe its awesomeness and it simply must be bought and used to really appreciate it. As if the word "mojito" isn't enough to get you to buy it already! It's got a beautiful smooth texture to it and it glides on your lips effortlessly and melts into the lips, leaving it feeling like cashmere.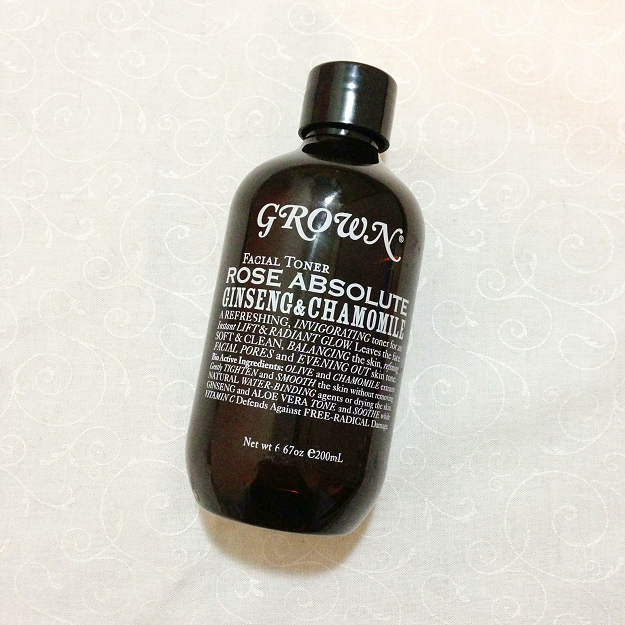 Grown's Rose Absolute, Ginseng & Chamomile Facial Toner, $29.95 (200mL)
Lately I've been opting using this instead of a facial mist. I only apply this just before bed, along with my night skincare routine. I just find that it works best for my skin. After I've cleansed my skin, I apply this on a cotton ball and dab it around my face, concentrating it mostly on my T-zone. This toner has really helped with my pores and while it's not a miracle cure, it has helped with oil and ultimately with pore size.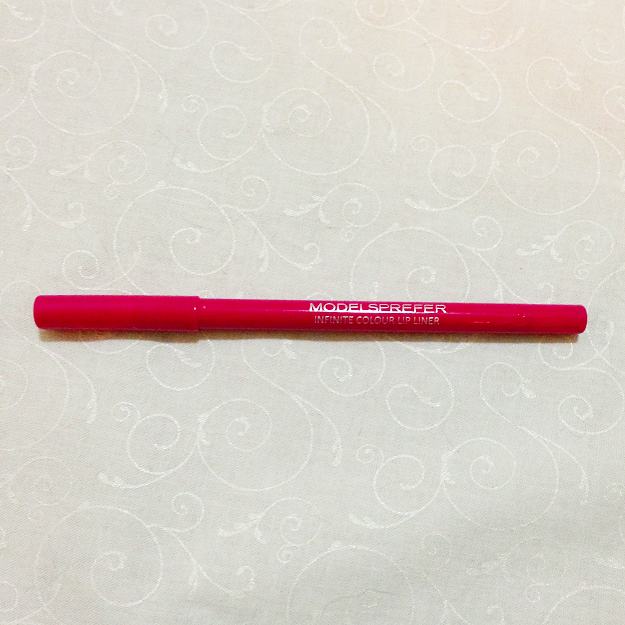 Models Prefer Infinite Colour Lip Liner in 'Forever Pink', $7.99
I thought I'd retire my all-time favourite lip liner from Illamasqua and give this one a go after hearing so many good reviews on it. Models Prefer have really stepped up in terms of quality in their beauty products and find that they're highly underrated also. This lip liner is AMAZING! Highly pigmented and also extremely smooth and soft on the lips. I've had lip liners before that are so dry and just grab the lips as you're attempting to line them – yuck – but this one doesn't. I'm keen to try their clear lip liner next (a perfect dupe for Urban Decay's 'Ozone' 24/7 Lip Liner).

Nivea Sun Light Feel Daily Face Veil Sunscreen SPF 30, $12.99 (50mL)
This product was introduced by one of my closest friends and fellow beauty blogger Chelsea when I went to visit her last month. Sunscreen has always been part of my morning skincare routine but I've never found a sunscreen that had a decent SPF without the white cast, til NOW! This has SPF 30 and is light on the skin and doesn't leave your skin white like other sunscreens too. Works really well with oil/combination skin, so it doesn't leave your skin greasy either. Now there is absolutely no excuse NOT to apply sunscreen before your makeup every morning.
---
It has been MONTHS since I last did a "What can you NOT stop wearing?" post, let alone a "Ask Reese" post.
I'll definitely be bringing this back in the next few months because there are times where I get obsessed with one product for weeks (which often gets thrown in with my monthly favourites) but I don't really go into much detail about it.
So, this is what I can NOT stop wearing…
---
I feel like I haven't done this in forever! Well, I've decided to bring it back this month. Here are my five favourite things things week!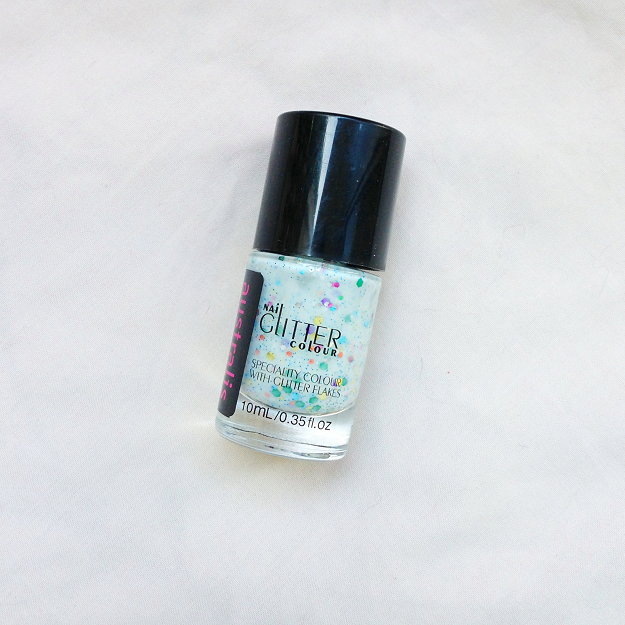 Australis Nail Glitter Colour nailpolish in 'Milky Way'
Although this isn't a very "Autumn" shade but I've been obsessed with creamy nail polished lately. I've been eyeing this for a while and decided to pick one up on the way through Priceline one afternoon. It was easily the best decision. It does take a little while to dry between coats but it's well worth it.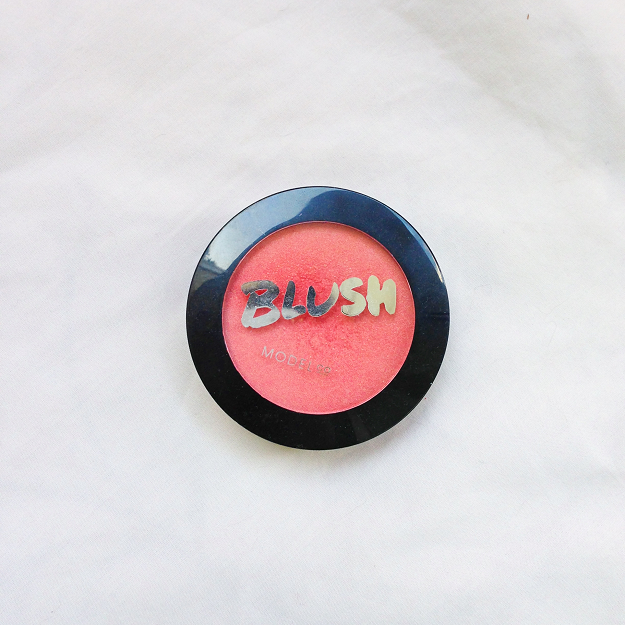 Model Co.'s Blush in 'Peach Bellini
I don't know why it's taken me this long to realise that pink blush doesn't suit me. It's the peach and the corals that do! Point rectified.
I have been in love with the blush ever since I got it. It's a deep peach with gold flecks through it but isn't too chunky or chalky. It also isn't very pigmented but you can build it up to the intensity you want.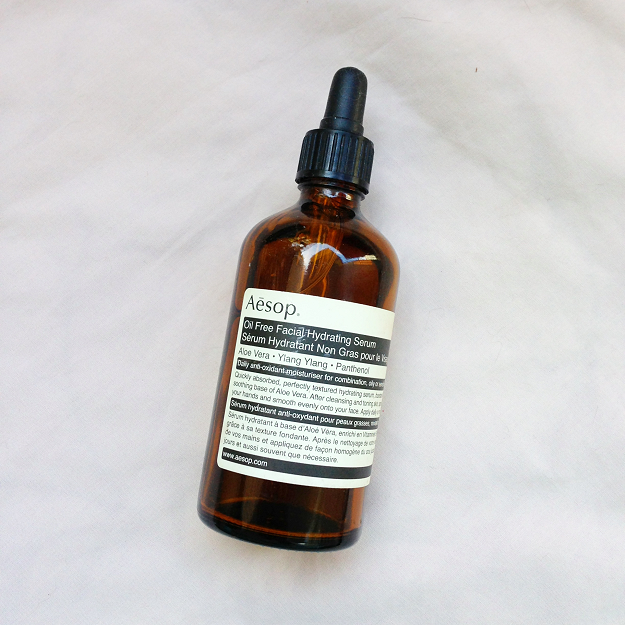 A?sop Oil Free Facial Hydrating Serum
I rely on this throughout the colder seasons because my skin dries out so quickly. I apply this after sunscreen but before moisturiser. Because it's light it doesn't make my skin too shiny, which is perfect for people with oily/combination skin.

Lip Love Lip Balm
I bought this at the Easter Show last month and I've been in love with it ever since. It's made with organic rosehip oil, honey and virgin olive oil. It's not thick so it doesn't become sticky and cake your lips too much. It also doesn't have a scent to it which I like, especially in the colder weather too.

Face of Australia's Mineral Therapy Illuminator in 'Angel Blush'
I'm so glad that I've finally got my paws on this. It gives the high points of my face such a dewy glow. Also, because of the shade it also frames my face a lot better than bronzer. The amount of product in this tube to what you actually need is ridiculous. This one tube will last you a lifetime.

What did YOU love this week?
---
I am one of those people who haven't been blessed with strong beautiful nails. No matter how much nail strengthener on them or maintain them, they will forever remain thinner than paper.
But even though I may not have nails to doll up in pretty polishes, this month I've been really enjoying nail polish blogs; whether they're swatching polish collections or doing nail art – I have been in awe of it.
This month I've been in love with So Nailicious
The blog was founded by the lovely Maria, whom you may know is from CrashingRed.com.
This blog is full of inspiration and I love there's aren't any limits when it comes to what can be put on nails. So, if you're ever in a nail rut – head over to get overwhelmed by gorgeousness.
---
Here is something I've thought about doing for quite some time now. I didn't know if anyone would be interested in. But with a few encourage words tweets from my fellow beauty bloggers, I've decided to go ahead with this!
If this sale proves successful I will definitely do them every season. I would also appreciate feedback.
Now here are a few things you have to keep in mind and the conditions I'm setting for this beauty garage sale…
- NO exchanges or refunds. So please choose wisely.

- PAYMENT MUST BE IN AUSTRALIAN DOLLARS. If it isn't, I consider it payment not made in full.

- All products have been purchased by me with my own money. None of the items featured have been sent to me product review or consideration, nor are they products that come in any sort of monthly boxes.

- All products (unless stated) have been used. I will let you know how much I've used or how many times I've used it. That way you can gauge on whether or not you want to go ahead on purchases.

- All prices mentioned are INCLUSIVE with posting. So don't need to wonder how much extra is going to cost all up.

- This is open internationally. However, if you're within Australia I'd appreciate direct bank transfer (I can give bank details at the time of purchase). If you're overseas, I have PayPal.
PRODUCTS WILL NOT BE SENT UNTIL I HAVE RECEIVED PAYMENT.
I will disclose my PayPal address when you contact me. (I'm not publishing it online due to privacy.)

- When you have chosen what you wish to purchase, please list them in an email: miss@reeseatomic.com.au and I will disclose payment details.
I will endeavour to post packages everyday, but please be patient.

- All products will be individually bubbled wrapped securely as possible. I hold absolutely NO responsibility of the state it is when it gets to you.

- Almost ALL of the products included in this sale are by brands that are cruelty-free. There is one brand that I'm unsure of and despite my efforts to get a hold of them, their PR department have ignored my email, so I'm guessing they do.

- The prices I've set are what I believe if fair considering what I had originally paid for it, the condition it's currently in and the amount of times I've used it. There will be no negotiations. I have only chosen products I've only used very little of since I've purchased it.

- Some products will not come in it's original packaging. I bought these products with the intention of using it – thus discarding the packaging.

- No, I will not reserve an item for you. First in, best dressed and like Target, sorry – no rainchecks.

- When products are marked RED it means it's sold and no longer available. I will make it as clear as possible.

- If you have any questions, please feel to email me! miss@reeseatomic.com.au
Still interested…? Then CLICK AWAY!


READ MORE
---
I am currently IN LOVE with the BYS Scented Nailpolish, particularly the Rose scented one. I have Lime, Blueberry, Floral and Bubblegum but this is by far my favourite.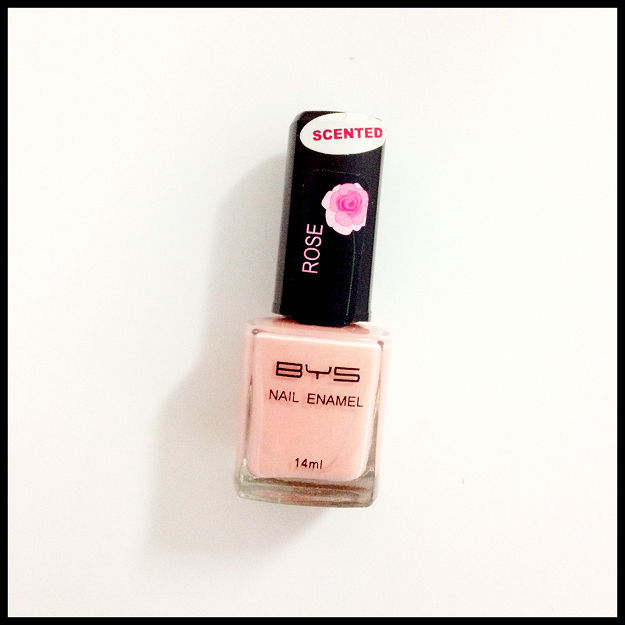 Even LC is a fan
I have to admit I was pretty skeptical on the scent. When I first sampled in the store, I put the bottle up to my nose and of course, smelled nailpolish. I thought there was no way this was going to smell like roses.
Later on, I asked the sales assistant about the nailpolish. She said it had to be dry for you to smell it.
I thought, I'd give it a go with Rose – play it safe with a scent that was going to be easy to distinguish when dry.
Took it home and what do you know…? They smell of roses. I was so impressed by it I went back the next day and bought more.
Truth is though… the scent doesn't last forever and if you put a top coat one – which is needed with all nail colour application, the scent of the nailpolish won't be as apparent as once thought. In fact, when I put a clear top coat on it I couldn't smell it anywhere.
However, if you decide not to put a top coat the scent of the nailpolish should last about a week. But with showers and regular hand washing the scent disappears slowly. Not unless you refresh the nail colour daily.
Definitely try it out if you ever come across it. BYS scent nail polish can be found at GLOSS stores for $4.95 and come in 18 difference shades and scents.
---
Clipper White Tea with Raspberry
I found this by complete accident while I was at the local supermarket near my house. I liked the idea of white tea and raspberry, despite not really liking the fruity teas. I expected these to turn out red or even a pink, but alas it looks like ordinary tea.
I bought these for $5.77. Go to the
Clipper Tea
website for more information and a complete list of different teas they have. I haven't seen this brand anywhere else except my small supermarket, so I don't know how easily you'll be able to find them.
LUSH 'Sex Bomb' Bath Bomb
I rarely have baths but I'm hoping that I'll have one a little more regularly.
I used this recently and was really surprised by it. It fizzed til it completely dissolved, turned the water pink and left my skin smelling exactly like the bath bomb for hours afterwards.
'Sex Bomb' can be purchased from any
LUSH
store for $6.75. (One time use).
LUSH Porridge Handmade Soap
My new favourite soap! It's ultra creamy and the grain in the soap is the most excellent exfoliator I've ever used.
Porridge handmade soap can be purchased from any
LUSH
store for $6.50/100g.
O.P.I nailpolish in 'Elephantastic Pink'
I'm really into the neon fashion at the moment. This colour isn't too neon but it's a really bright pink.
O.P.I nailpolish can be purchased from David Jones for $19.95.
Kikki.K Gratitude Journal
So, in order to tidy up my life a little bit I decided to go on a bit of a spending spree in
Kikki.K
to buy a few supplies.
Just before I went to the counter I picked up the Gratitude journal and thought it would be good to write daily notes on things I am grateful for. So far, it's made me feel very humble and blessed to have such love and positive things surrounding me.
The Gratitude Journal is available from
Kikki.K
for $39.95.
---
So, we're now at the tail-end of the Australian Winter 2012. In less than a month it'll be Spring and the sun will be out in full force.
Did anyone else have the Winter Blues? I'm glad to say this year wasn't too bad, enough my skin did suffer a lot because of the cold weather.
Here are my Top 5 Winter blue nailpolishes that will soon be perfect to cool down the warmer weather.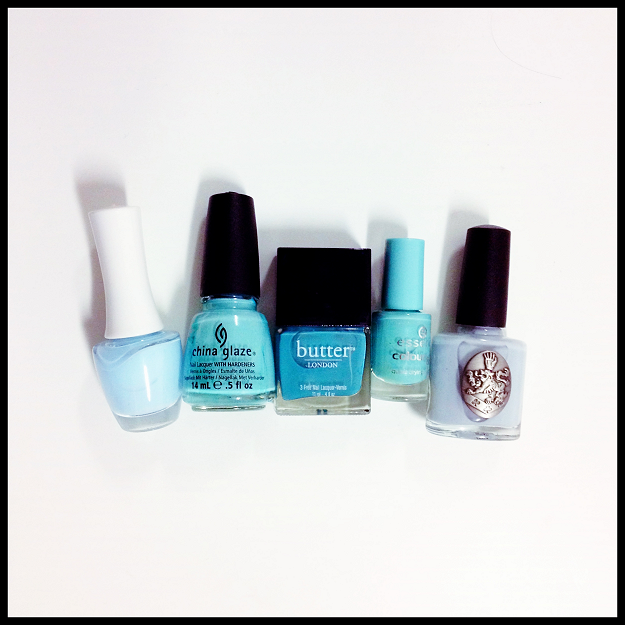 L to R: BL60, For Audrey, Artful Dodger, You Belong To Me, Poseidon (LE)
READ MORE
---
So, it's been a while since I went out and bought a whole lots of stuff.
I had made a small list of a few things I wanted to check out, sample before I buy and if they were good enough purchase.
There were also a few things I found along the way but thought I'd wait to buy another time.
This what I recently bought…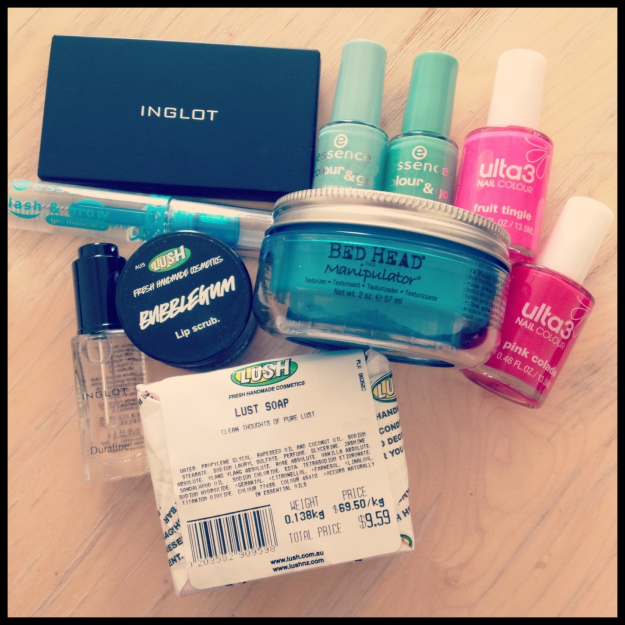 Let me know if you're interested in a product review for any of these.