TAG ARCHIVES: mist
---
In the lead up to October, I thought I"d put together my top 10 beauty staples. These are the things I use daily and if I was completely honest, I'd say something corny like "I can't live without these products.
I've decided to participate in a month-long challenge called Buy Nothing New which runs for the month of October, when you don't buy anything new for a whole month (food excluded obviously) to reduce waste and ultimately save a shitload of money. Also its really great for the environment because you're not going to be throwing out as much.
But I decided to put my own spin on it and decided to do it but with my beauty products, also known as Project 10 Pan. For those who don't know what Project 10 Pan is, its just this: You pick your top 10 go-to products and only stick with those ten items until they're absolutely empty.
In my case, I'm going to be picking my top ten and sticking to them for the 31 days of October for the Buy Nothing New challenge. Goodness only knows I need to this, especially after how much I spent at Sydney IMATS. I can save some money and use up all my products instead of just half-finishing them. It will take a lot of will power, but I"m determined all in the name of the environment, my own discipline and to save some money.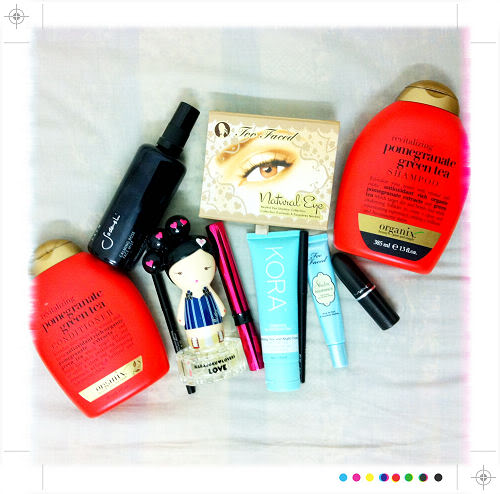 READ MORE
---
I have been a dedicated and loyal
Clinique
customer for a long time, but it happens every once in a while when I've used a product for years and one day my skin just throws a tantrum and says no more.
I've been using Clinique's 3 Step system for a while now and in the last couple of months my skin has just given up and refuses to co-operate anymore. It all started when I used the toner (Step 2) and broke out in a rash on my neck. At the time I didn't know it was the Clinique. I thought I had an allergic reaction to something else. The rash got worse and worse by the day and started blistering and one day it also started bleeding. It was horrible. I stopped using the 3 Step immediately because it would only aggravate my skin further. I thought I'd much rather have my skin break out from the lack of cleansing, toning and moisturising than this rash get any worse.
It was only after the rash cleared up and I started using the 3 Step again when I realised it was Clinique that wasn't working for me.


READ MORE