TAG ARCHIVES: Inglot
---
Hello mid-2013! Time has really flown hasn't it. Urgh, I can't believe we're finally mid-year. Crazy!
Here are my favourites for the month of June. You'll find a lot of these I've use at night/before bed. I'm not too sure why, but I hope you enjoy it.
A?sop Oil Free Facial Hydrating Serum, $63.00 (100mL)
This has been part of my night skincare routine for a while now but because it's become a lot cooler with the change of seasons I rely on it more than ever.
After I've showered and done my five minute skincare routine I apply this product before my moisturiser and eye cream and them go to bed. In the morning, my skin is soft, hydrated and clear.
Sukin's Rose Hip Hydrating Day Cream, $23.95 (120mL)
I'm still in the process of writing a product review on this but I have to include it in my favourites this month without it. This stuff is AMAZING!
This has been my nightly moisturiser of choice and I just can't fault it. It's thick but isn't greasy on the skin, it's got rosehip oil in it so if you somehow skip your nightly application of it this product has you covered. A little goes a long way and when applied at night your skin is so dewy in the morning.
I've even worn this as a daily moisturiser on particularly colder morning (or when I have a very early morning start) and it really helps my skin stay hydrated and not flaky. 120mL jar will last you forever.
Jack Black Intense Therapy Lip Balm in Lemon & Chamomile, $9.95 (7g)
I love Jack Black Lip Balm, there has been no secret on this blog about that. I recently treated myself with a purchase of both the Mint and Shea Butter (my all-time favourite) and thought I'd try out the Lemon & Chamomile to see how it goes. I've been using this just before bed and by the morning, lips are smooth and soft.
Kiehl's Creme De Corps Soy Milk & Honey Body Polish, $38.00 (200mL)
I usually have my showers in the evening and this month I've been really enjoying this product to scrub away the crazy day with this. It's another product I'm going to be doing a product review on in time because this stuff is AMAZING!
I suffer from Keratosis Pilaris (KP) on the back of my arms and I've found that this helps immensely with removing that extra skin without being too harsh on the skin and without the use of a loofah.
Kiehl's Creme De Corps Soy Milk & Honey Whipped Body Butter, $48.00 (226g tub)
After my shower I like to apply this all over my body – particularly on my elbows and arms – and by the morning my skin feels really soft. Especially when I've applied my Winter woolies on top and jump into a warm bed.
I've done a product review on this if you're interested.
ColorWOW One-Minute Transformation Styling Cream, $29.99 (120mL)
Now this is something I'm in love with. This was featured in a post I did last week introducing you to the new ColorWOW haircare products. This was one of the most amazing products I've tried in a while that helps control flyaways and frizz without making your hair look like it's caked in product, gel or hairspray.
Inglot circle freedom lipstick; no. 60, $10 (lipstick only)
This has been my most-worn pink lip colour this month, which I often do but more on a weekly basis. I've been leaning towards a more truer pink – not a red-pink or even a bright pink (sorry Candy Yum-Yum, you're just going to have to take a seat for a while). I love how many compliments I get wearing this colour and I don't even mind that I have to apply it with a brush.
1. Sleepy teas
2. Body scrubs
3. Vodka Sunrises
4. Scarves
5. Law & Order: SVU
I've been pretty much listening to this all month…
---
Hello pretties! Just here with a quick peak at my nails for Valentine's Day. I posted a photo in my Instagram and I then got a lot of questions as to what I used… so, here we are.
I wasn't blessed with strong beautiful nails so I have to fake them. I very rarely venture into the whole world of nail art either, but I thought that I'd add a sweet touch to my nails this year for Valentine's Day.

I used Ulta3 nailpolish in 'Fruit Tingle', Sportsgirl's 'Bionic', 1000Hours Nail Design Pen in black and Inglot's Fast Drying Top Coat
Added two coats of the Fruit Tingle on my nails except my ring finger on my left hand. When dry added one layer of top coat.
On my ring finger I did two coats of the Bionic. When dry, using a bobby pin and Fruit Tingle I made two lines in a V-shape to make the heart. There will be a lot of nailpolish on the bobby pin when start the V-shape, so it's heavier on the top instead of the bottom.
For a personal touch I put my dude's name on my pinky finger nail using the 1000Hours Nail Design Pen. I had his initials at first but I changed my mind.
Once everything is dry, one layer of top coat and we're done.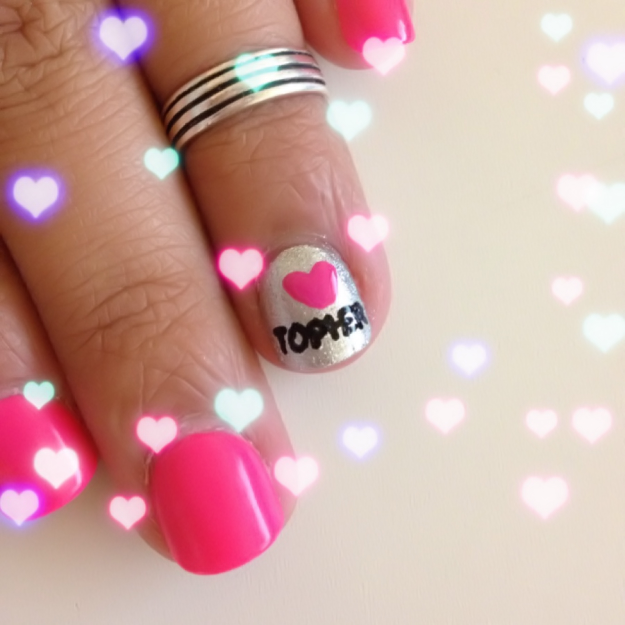 Excuse the condition of my cuticles (I ran out of Lemony Flutter)
That's my little Valentine's Day nail design for this year. I hope everyone has a lovely day, regardless of if you have a Valentine or not.
What nail art did you do this year?
---
Here is something I've thought about doing for quite some time now. I didn't know if anyone would be interested in. But with a few encourage words tweets from my fellow beauty bloggers, I've decided to go ahead with this!
If this sale proves successful I will definitely do them every season. I would also appreciate feedback.
Now here are a few things you have to keep in mind and the conditions I'm setting for this beauty garage sale…
- NO exchanges or refunds. So please choose wisely.

- PAYMENT MUST BE IN AUSTRALIAN DOLLARS. If it isn't, I consider it payment not made in full.

- All products have been purchased by me with my own money. None of the items featured have been sent to me product review or consideration, nor are they products that come in any sort of monthly boxes.

- All products (unless stated) have been used. I will let you know how much I've used or how many times I've used it. That way you can gauge on whether or not you want to go ahead on purchases.

- All prices mentioned are INCLUSIVE with posting. So don't need to wonder how much extra is going to cost all up.

- This is open internationally. However, if you're within Australia I'd appreciate direct bank transfer (I can give bank details at the time of purchase). If you're overseas, I have PayPal.
PRODUCTS WILL NOT BE SENT UNTIL I HAVE RECEIVED PAYMENT.
I will disclose my PayPal address when you contact me. (I'm not publishing it online due to privacy.)

- When you have chosen what you wish to purchase, please list them in an email: miss@reeseatomic.com.au and I will disclose payment details.
I will endeavour to post packages everyday, but please be patient.

- All products will be individually bubbled wrapped securely as possible. I hold absolutely NO responsibility of the state it is when it gets to you.

- Almost ALL of the products included in this sale are by brands that are cruelty-free. There is one brand that I'm unsure of and despite my efforts to get a hold of them, their PR department have ignored my email, so I'm guessing they do.

- The prices I've set are what I believe if fair considering what I had originally paid for it, the condition it's currently in and the amount of times I've used it. There will be no negotiations. I have only chosen products I've only used very little of since I've purchased it.

- Some products will not come in it's original packaging. I bought these products with the intention of using it – thus discarding the packaging.

- No, I will not reserve an item for you. First in, best dressed and like Target, sorry – no rainchecks.

- When products are marked RED it means it's sold and no longer available. I will make it as clear as possible.

- If you have any questions, please feel to email me! miss@reeseatomic.com.au
Still interested…? Then CLICK AWAY!


READ MORE
---
What Five beauty products could you not live without?
1. Sunscreen. Living in Australia, you can't afford to not use it everyday.
2. Liquid eyeliner. I use one from Models Prefer. It's thick and lasts all day.
3. Bright pink lipstick. My favourite is #69 from Inglot.
4. Lengthening mascara. Lash Glamour Extreme Lengthening Mascara by Bobbi Brown.
5. Floral perfume. Like Vera Wang's Lovestruck.
What's your daily skincare regime consist of?
Morning: cleanse, sunscreen, moisturiser, primer and makeup.
Night: exfoliate, cleanse, rosehip oil, moisturiser.
What does your daily cosmetics regime consist of?
Eye primer, a basic neutral eyeshadows, liquid eyeliner, mascara, lip balm and a bright pink pout.
Favourite Beauty treat?
LUSH bath bombs. Once every two weeks or so for about an hour with my iPod in my ears with the latest issue of Grazia magazine.
What's your favourite beauty store?
Inglot.
Favourite Premium and Budget brands?
Premium: KORA Organics, A?sop and Urban Decay.
Budget: Essence, Revlon and Inglot.
And Hair Care?
Premium: Toni & Guy, O&M and A?sop.
Budget: Organix, Schwarzkopf and Salon Only.
What Fragrances do you wear?
'L' by Gwen Stefani is my signature scent. I also wear Vera Wang's 'Princess' and Lovestruck. Occasionally I wear 'Love' by Harajuku Lovers.
What's your "every girl must own one" item?
A hot pink lippy. Everyone can get away with wearing it. I don't care what anyone says.
And finally, best beauty tip?
Your face ends at your boobs, so don't neglect applying skincare to your neck and décolletage.
---
So, it's been a while since I went out and bought a whole lots of stuff.
I had made a small list of a few things I wanted to check out, sample before I buy and if they were good enough purchase.
There were also a few things I found along the way but thought I'd wait to buy another time.
This what I recently bought…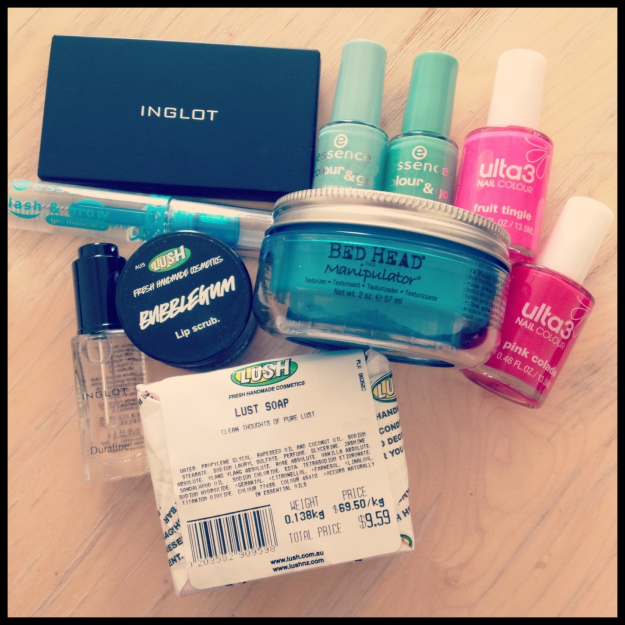 Let me know if you're interested in a product review for any of these.
---
Recently on
Twitter
I briefly spoke about my recent run-in with a rude counter girl/makeup artist at a well-known cosmetic brand.
Here's a brief history: I went into Myer in Bondi Junction to just have a browse around to see what was new and what new products were on the market and have a look at a few makeup brands' collections that had just released.
I come across this brand's recent collection and decided to have a quick look for myself after reading and watching many positive reviews on it.
Needless to say I was less than impressed. And it's not because I think this brand is not the holy grail of makeup and cosmetics like some beauty junkies think, I honestly wasn't thrilled by it.
A fellow shopper standing next to me looked over to me and commented on my lipstick. "I love that lipstick on you! Where did you get it from?" she asked. It just so happened to be this brand's regular lipsticks.
After telling her, I put my two cents in and added, "It's been my go-to lipstick for years and I love it, but I've tried better." which is the honest truth. I wasn't trying to insult this brands' merchandise or slander their name, it's the truth! Everyone talks like they're the be-all-and-end-all makeup brand because it's not considered "drugstore" in Australia and is vastly popular in terms of availability, but like I said – IT IS NOT THE HOLY GRAIL OF MAKEUP – and that's the truth! They were good, once upon a time, but in the last two years or so their quality in products have diminished to something that is worse than drugstore.
When the counter girl heard me talking to a fellow shopper she launched into a public argument with me. Other shoppers were repulsed by her behaviour and walked off, I walked away embarrassed for her because she just put (several) nails in the coffin of her employer's reputation.
I later on walked to Inglot, which is a fairly large counter in the middle of the Bondi Junction Westfield.
Now, I will state now that Inglot is NOT paying me to say this, but they are really outstanding when it comes to customer service and their products.
Their range in eyeshadows are out of this world – they come in every hue and in every finish you can think of and are highly pigmented. Their lipsticks are amazing and don't dry out your lips. Nailploshes as well; a massive range and they also have glittery top coats, matte finishes and fast drying.
The great thing about them is that they're not expensive at all. Shadows are $10 each and you can customise your own palette to suit you with their Freedom System. When you've finished your eyeshadow, you can just replace it with a new one.
So, one this particular day I decided to share my little story with the makeup artist at Inglot and she and I managed to laugh about it. She agreed with me that products by this particular brand isn't all that it's cracked up to be and she much prefers other products by other brands, in which is didn't just plug Inglot. (Gotta love a gracious makeup artist who works counters).
So to other counter makeup artists, don't get big-headed about your own brand. Think outside the square and experiment with other products with other brands and realise your brand is NOT the holy grail of makeup. All GOOD makeup artists know this.
---
About a week ago I found myself watching a morning breakfast show. I rarely watch these shows because I find that infomercials are extensively boring, you get very little laughs and the couch chatter on those shows are little or no importance to anyone's lives.
But here I was watching one of those shows and instead of paying attention of the stories I was looking at the hosts' makeup.
I find that I'm always doing that at the most inappropriate times. While out with a girlfriend for coffee and Eggs Benedict, she'll make eyes with a handsome fellow and while she's captivated by his aesthetics I'm commenting on how clean his shoes were.
One of the hosts was wearing a very simple but elegant cranberry and gold combination that day and I was instantly in love. I particularly liked this look because she was teaming it up with a bright pink lip and when you've done makeup for a while, it's a rule that you have only ONE focus of your makeup look; either a bold eye and a subtle lip or vice versa.
But this look worked really well for her and I have to say if that look went well with a bright pink lip, of course I would be all over it.
So, the following day I went out and bought this…
READ MORE
---
So we're at the end of the first month of Winter. I'm not sure about everyone else, but I've been struggling with dry skin so I can't get enough of hydrating moisturisers.
I've been loving a lot of stuff this month, which is unusual because I'm usually one to stick with what I know. This month I've bought a lot of new products and I actually started liking.
Here are my favourites for June…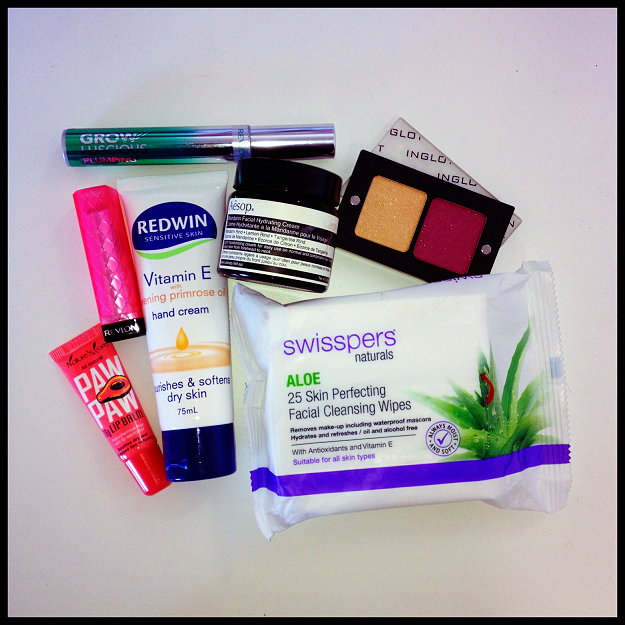 READ MORE
---
It's the end of the month, so you know that means…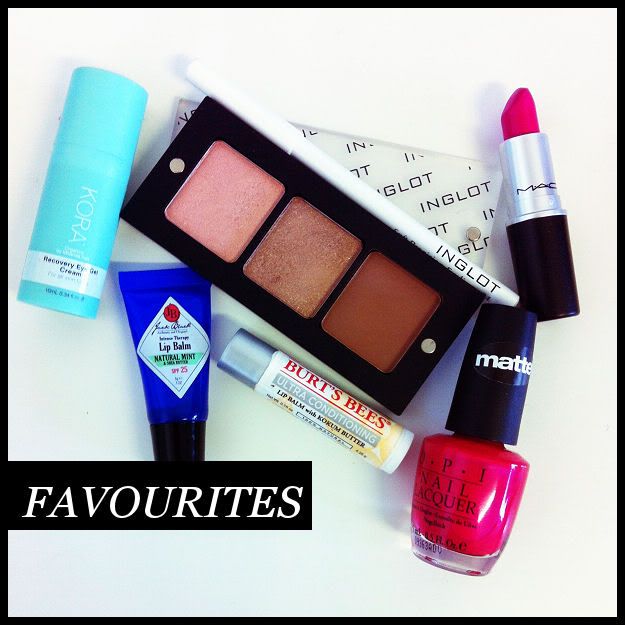 READ MORE