TAG ARCHIVES: health
---
Q. What the benefits of coconut oil?
A. Let me start off with stated… I wish I got onto this sooner. But as they all say, better late than never.
So… what's the big deal about coconut oil? Well, these are a good reason…
HEALTH BENEFITS
BEAUTY USES
Dandruff remedy
Acne treatment
Cold sore healer
Boosts metabolism
Fades Keratosis Pilaris
Aids weight loss
Heals cuts and scrapes
Kills bacteria
Curves food cravings
Frizz tamer
Conditioning hair mask
Anti-wrinkle eye cream
Eye makeup remover
Facial cleanser
Lip balm
Massage oil
Natural deodorant
DIY body butter
Sunscreen
Cuticle oil
Bath oil
Stops stretch marks
Shaving salve/cream
Skin moisturiser
Softens and smooths cracked feet
So, as you can see it's good for a multitude of things for both your health and very useful in all aspects of beauty.
But WHY is it so good?
Well… coconut oil isn't the same as trans fat oils. Coconut oil (which, let's face it… is fat – but a GOOD one) and trans fats (ie. BAD fat) don't behave the same way. While trans fats are linked to a number of health problems such as cardiac issues, increased cholesterol and depression, coconut oil metabolises fats in the liver and instead of turning it bad fat which is stored and doesn't move, it immediately turns it into fuel for our brain, heart and muscles.
It is recommended to have 1-4 teaspoons of coconut oil per day. If you're starting off, it's wise to start with one teaspoon and gradually work yourself up to four. One teaspoon will set you back approx. 120 calories.
But remember, combine this with exercise and healthy eating will also help in weight loss and adding coconut oil only boosts your metabolism and DOESN'T change it forever.
Add to things like salads (as dressing), cooked with some eggs in the morning, add to yoghurt, and smoothies. It can also be added to protein shakes, if you have them and straight off the spoon – just make sure it's a flat teaspoon of coconut oil. Eaten straight from the jar it's brilliant at curving your food cravings or that sweet tooth you might get after a meal.
I've heard you can add it to your coffee, provided that it's extremely hot otherwise it will float (acts like a flavoured syrup) but I personally haven't tried it in coffee.
The coconut I'm currently using is this…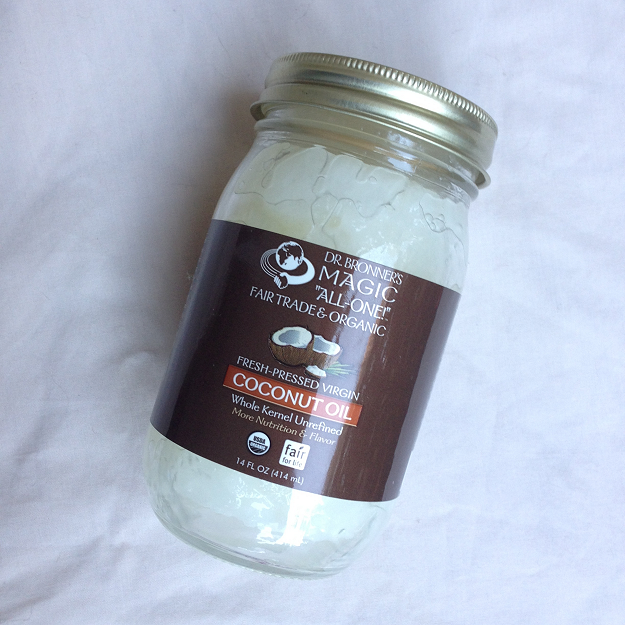 Although there are many coconut oil versions out there, I went with the most common.
Coconut oil is a pretty soft oil. I remember when I first bought this, the oil was completely solid in the shelf but once I had it in my hands and carrying it around looking at other things in the health food shop it quickly melted around the sides leaving the centre much solid and opaque but quite soft.
When left alone it will solidify again. If you live in a warmer climate, your coconut oil could very well remain a liquid even though it's on a shelf.
Things to note when buying coconut oil are:
Fresh-pressed – You want to make sure that you're getting the ripest coconuts available
Virgin – Over processed products diminishes it's quality
And when available, fair trade and organic isn't bad either.
The one pictured I bought from a health food store in Kings Cross for $16.20 for a 414mL jar, which I think is great value.
The first day I bought it, I decided that I was going to try it out as a eye makeup remover and I can't tell you how impressed I was. It didn't sting, didn't burn and removed all of my makeup effortlessly. Sure, it took two cotton pads per eye to remove everything, but I wear a lot of eye makeup anyway. I'm sure if I was just had my brows done, mascara and eyeliner I would have cleaned in one for both eyes.
I don't think I'll ever go back now that I've started using coconut oil, especially as makeup remover. I'm so impressed what it does health-wise and as a multi-function beauty product. BIG thumps up!

Have you used coconut oil? What is your favourite use for it? How do you like to eat it?
---
I haven't updated on the progress of Healthy 2013, so I thought I'd do a quick one.
Not much to report, but I have lost some weight – how much? I haven't weighed myself as yet, but I know I have because a lot of my "fat clothing" is slowly getting looser.
Other things I've noticed about my weight loss is that I've become increasingly more energetic than I was before. Walking up a steep hill (and around Five Ways, Paddington – there are a lot of hills) it would usually knock the wind out of me. But not anymore!
I'm enjoying long walks, especially those uphill. I think if I do it more regularly weight will just fly off instead, so I should make a habit of doing extra walking after and before work.
In addition to this, I've got a goal of losing 5 inches (about 13cm) off my waist so I can fit into an old pair of jeans I've been holding onto for almost a decade. They were my favourite and extremely distressed (there's a massive slash right under one of the butt cheeks) pair of jeans I wore to death when I was twenty which have a lot of great memories to them.
I was wearing them the day I walked out on a very abusive relationship, head held high and did not look back. I was wearing them the day I moved into my new home in Paddington and loved every second of it. I was also wearing them the day I met Topher in the small laundromat in Darlinghurst.
Although I will never actually wear these jeans out in public again (pretty sure slashed jeans was so 2005, if not 1992!) they're just a size I want to be able to fit into again. Once that's achieved, I'll go out and buy a new pair of jeans, sans a butt cheek hanging out the bottom of it.
Since I first set the goal a couple of weeks back, I've already lost an inch off my waist. I was really surprised because I didn't really change what I ate, I just ate if I was hungry, smaller portions and never after 7pm, even when I was working late. Although my eating habits have changed, I'm never starving which is good.
In addition to changing eating, I'm ever so slowly easing back into vegetarianism. I'm not perfect; I still eat eggs (a very big staple with my breakfast and snacks) and cheese and fish, but as far as other meats goes I'm completely off them. I haven't eaten pork in over eight years, I've given up beef and I've really struggled with chicken but I've managed to steer away from it and I'm not missing it at all.
I'm taking iron supplements that was recommended by my GP. I will only recommend taking them after seeing a doctor because if you don't get one that medically suited for you, you may be not getting enough or taking too much which neither is good for you.
I'll keep you updated on my progress again in the next couple of months.

How is YOUR Healthy 2013 going?
---
Dear Topher
I think it's cute that you're now having a part of you always touching me when we sleep. I'm loving all our nights together; without the interference of social media or anyone else.
Dear LC
You need to stop eating so fast! Silly cat. I don't want you to get fat again. At least you haven't got much of a temper this week, this is good.
Dear Andre
I'm so excited for you to be finally in your new home… with me and the feline. I'm working hard at making your new home as comfortable as possible.
Dear health
Thank you for the kick my butt back into reality and making sure that I look after myself. It wasn't pleasant knowing that I could have had health problems at my age, but I've been watching what I eat and how much sugar I have.
Dear drama
I don't care for you this week – nor do I ever! Please feel free by fucking off out of my life and leaving me alone, with my friends who know what banter is.
Dear ForeverKailyn
You will be truly missed. I hope whatever you do, you're happy.
Happy FRIDAY!
---
So, here we are at the beginning of the new year. I hope everyone had an good time bringing in 2013.
What has changed since January 1st?
Well, LC and I moved into a new place in the Eastern Suburbs. I'm back to living in Paddington, a couple of blocks away from the well-known Five Ways and only a five minute walk to my job. (Everything's coming up Milhouse!)
I didn't make any resolutions this year. I find that I rarely stick with them, so over the last few years I've been writing 101 Things to do in 1001 Days which I find is a lot more achievble than resolutions.
One thing I'm going to do regularly throughout this year and do regular posts about is HEALTHY 2013.
READ MORE
---
Dear health
PLEASE, for just one month can I just live my life without the added stress of worrying about you? If it's just not too much as ask. If you're able to do this, I promise I will nourish with good organic food, apply only the best beauty products, wear the most floral perfumes and wear the prettiest dresses. It will be greatly appreciated.
Dear Topher
I appreciate your patience this week. I know it hasn't been easy for you, but I love that you're still standing by me. You're the greatest.
Dear LC
My sweet darling girl. Another week with you that was full of laughter, joy and happiness.
Dear Andre
I'm sorry that I woke you up several times that night I decided to sleep on the couch. You were such a beautiful pocket full of sunshine the following morning. I loved how your feathers looked too.
Dear Alice
Thank you for being a wonderful soul and saved me from such a horrid day. You are truly one a kind. Thank you bunny.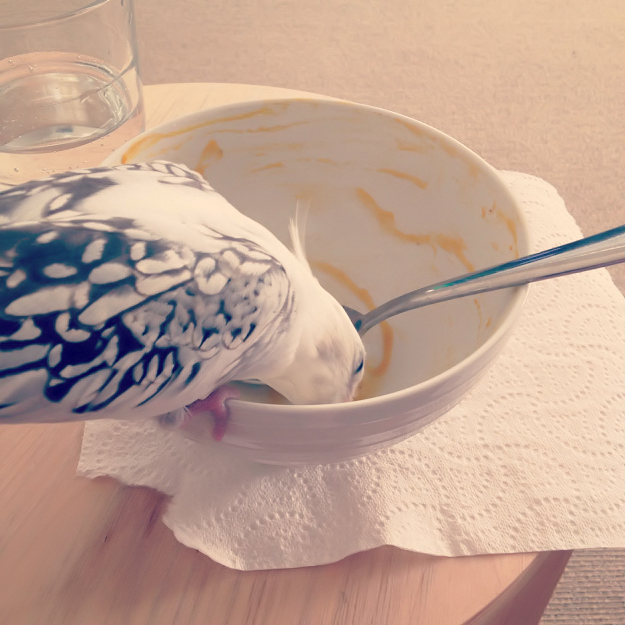 HAPPY FRIDAY!
---
As we know, life doesn't always go "according to plan". It doesn't always work in our favour. It puts up road blocks. It feels like you're constantly running into bad luck and there are just so many days where you've just had enough and just want to cry.
I wrote this post after having a bitch of a day. I had called the dude straight after working ten hours, near tears I let loose about eight hours of bottled up frustration.
He said, "Why did you call me to complain? The day is over! Go home, relax and have a bottle of wine or something." He was right. Ten hours was behind me and I now have the rest of the night to do whatever I wanted.
So… I was inspired to do this post. This is for those who have had a bad day…
50 GOOD THINGS ABOUT LIFE
01.
Chocolate
02.
Showers and bubble baths
03.
Sleep
04.
Disney princess movies (Watch
Princess & the Frog
– you will not regret it)
05.
Cats purring & puppies tail wagging
06.
Friday afternoons
07.
Ice-cream in a cone
08.
The sound of birds singing
09.
The smell of the ocean
10.
Text messages that make you giggle to yourself in public
11.
The scent of flowers
12.
Watching old school Simpsons
13.
Reading books
14.
Kisses & cuddles
15.
Freshly washed shirts
16.
Soy lattes
17.
The first bite of an apple
18.
The Breakfast Club
19.
Your favourite lipstick or lipgloss
20.
Movie nights at home with your BFF
21.
Hotel California
by The Eagles
22.
High Tea with friends
23.
Your favourite perfume
24.
Breakfast in bed
25.
Holding hands
26.
Walking by the beach with your feet in the water
27.
Morning dew on the grass
28.
A cold glass of water
29.
Switching off your phone for four hours to chill out
30.
Making dinner with your best friend
31.
Vodka Sunrises on a Saturday afternoon
32.
Freshly manicured hands
33.
A homemade salad
34.
Inside jokes and laughing til your sides hurt
35.
A day in the silence of the state library or art gallery
36.
Old school lemonade
37.
The light breeze on a warm day
38.
Having lunch in the sunshine
39.
The movie
Across The Universe
40.
Love hearts
41.
Pay day
42.
Seeing your boyfriend's name flash up on your phone
43.
French music
44.
Sunday morning
45.
Taking off all your makeup
46.
Slurpees
47.
Hearing 'I love you'
48.
Shopping excursions
49.
Rainbows
50.
Getting your hair done; cut, wash & blow-dried
…and one for free: YOU! You are one of the greatest things about life. Never ever forget that. ♥
---
So it's November again and one of the biggest causes I strongly support this month is Movember.

For those who aren't aware of what exactly Movember is, it's cause to support and raise money for male health issues. For those who have fathers, brothers, boyfriends… you'd know that men by nature men aren't exactly the open up and sharing type. A lot of their issues are often keep to themselves.
Recently my best friend in Melbourne had shared some sad news that a guy whom we had worked with, Sam, had recently lost his battle with depression.
When she had told me, my heart sank. It stirred up a lot of feelings that I had laid dormant for almost a decade when I had lost my best friend, Aaron, the same way.
I had known Aaron since we were fourteen years-old and after a two year holiday overseas post graduating high school, he had come back a completely different person.
Only after I had lost him to depression I had learned that he had been battling it in silence for over a year. For a long time I felt partially responsible. I should have seen the signs, I should have spoken up about it or asked him to seek help.
Aaron was only twenty years-old.
This beautiful guy Sam was an intern radiographer, when I first met him he was twenty-three years-old. I remember the first time I ever saw him; he was immaculately dressed, hair done perfectly done up in a quiff and was wearing white shoes.
Our first conversation I had ever had with him was I while working a busy desk in the medical imaging department. He said, "Oh my god… who is wearing Gwen Stefani perfume?" I looked up at him and said it was me.
From that day forward he nicknamed me Gwen.
About a year later I had bumped into him walking the halls in another hospital. He was still such a beautiful person, always smiling, always cheerful, always friendly and he still called me Gwen.
I was deeply upset for days after I had learned about Sam. Sad for Sam's family; his parents, his younger sisters, all his friends, his ex-boyfriend, everyone he had ever crossed paths with… how hard it must be for all them coping with the loss of their son, brother, friend, partner.
It is so surreal to believe he's gone. He had such a beautiful soul, a breathtaking smile, an infectious laugh and one of the best personality I've ever encountered.
Sam, I am so glad that I got to meet you. You were always so nice to me and always had a smile on your face. You will be greatly missed and I will always have fond memories of you. I will forever remember the sound of your voice and your laugh. I miss you Samuel. Lots of love, 'Gwen' xx
Please donate to the 'Doing It For Sammy' Movember team.
---
OK, this update isn't so great, which does happen from time to time and I promise I won't make habit of.
---
Last month I started a little life journey, collaborating with a few beauty bloggers
Jessica
and
Kimberley
we called
Project: Life Overhaul
.
If you missed it, we got talking on Twitter about some improvements we wanted to make in our lives.
I started off with getting myself organised a little better. I am a planner to the bone and I had realised that I had let it slip for months and it was now getting out of hand!
I had decided things needed to change. I was going to get myself back on track and in some sort of order with things like my writing/blogging, my day-to-day life, expenses and little things like having an organised work desk that I would be happy to work at and blog from everyday.


READ MORE
---
Hi everyone! I got asked this on Twitter recently about how I do my nails.

I just want to start off with saying that my nails really suck! They're extremely thin (thin like paper) and they split
constantly!
So most of the time I wear fake nails.
I don't go to the nail salon and get them done because I'm allergic to the acrylic liquid (I'm sure there's a proper name for it) they use with the powder to fill in the nails.
I find that they the DIY nail routine I do doesn't last as long as the one in the salon (mine last a week) but it doesn't bother me. I usually do my nails whilst watching TV on the weekends.
So, this is my basic nail and hand routine. Takes all of about 30 minutes to do whilst watching TV and sipping my morning coffee.