TAG ARCHIVES: beauty
---
Another tag copied from Michelle from Lab Muffin.
I guess these aren't really "beauty confessions", I don't believe I made any of these a secret on social media or on the blog. But either way, ENJOY!
Also, please be sure to let me know if you've done this tag so I can check it out.
1. My nails
If it's not biting my nails – which I'm happy to say I've given up on – I am constantly picking nailpolish off, which is why I could be sporting different colours up to four times a week. Just when I kicked a bad habit, I start with another.
2. Doing makeup in public
OH NO YOU DI'NT! It's one of my biggest pet peeves. I'm not referring to reapplying lippy after a meal or drink, I'm talking about the whole nine yards – usually on public transport – foundation, bronzer, mascara, eyeliner (risking the chance of beginning poked in the eye with it – if there's a bump in the road)… BIG no no!
3. Makeup brushes
I probably don't wash my brushes as often as I'm meant to. Probably once a week, I believe I let mine go for about two weeks once. I know, it sounds gross but I using the same brushes, in the same colours to do the same makeup look so it's not like I'm being too gross.
4. Honey-scented
I am insanely in love with honey-scented body washes and soaps, hence why Lush's Honey I Washed the Kids is my favourite scent of all time.
5. Daily water intake
I honestly don't drink enough of it because it's usually replaced with tea and coffee and the occasional Diet Coke. But, at work I set myself a water intake goal and try extremely hard to reach it. Often it's about nine cups of water, but I've only ever reached that number once. The rest was about five or 6 cups. FAIL!
6. Makeup before bed
I have only ever fallen asleep with makeup on ONCE and it was the first and last time I would ever do it. No only did my eyes get glued shut from the lash glue, I woke up with a horrible eye infection. NEVER AGAIN! And besides, there's nothing hot about panda eyes… unless you're an actual panda.
7. Makeup artistry
As much as I LOVE makeup I could never do it as a profession. So many of my friends and people I've met through blogging have suggested I go to beauty school but it's never been something I've wanted to pursuit. I've felt that if I turned something I loved into work I'd begin to hate it and I never want to hate makeup.

What are YOUR top 7 beauty confessions?
---
Q. What the benefits of coconut oil?
A. Let me start off with stated… I wish I got onto this sooner. But as they all say, better late than never.
So… what's the big deal about coconut oil? Well, these are a good reason…
HEALTH BENEFITS
BEAUTY USES
Dandruff remedy
Acne treatment
Cold sore healer
Boosts metabolism
Fades Keratosis Pilaris
Aids weight loss
Heals cuts and scrapes
Kills bacteria
Curves food cravings
Frizz tamer
Conditioning hair mask
Anti-wrinkle eye cream
Eye makeup remover
Facial cleanser
Lip balm
Massage oil
Natural deodorant
DIY body butter
Sunscreen
Cuticle oil
Bath oil
Stops stretch marks
Shaving salve/cream
Skin moisturiser
Softens and smooths cracked feet
So, as you can see it's good for a multitude of things for both your health and very useful in all aspects of beauty.
But WHY is it so good?
Well… coconut oil isn't the same as trans fat oils. Coconut oil (which, let's face it… is fat – but a GOOD one) and trans fats (ie. BAD fat) don't behave the same way. While trans fats are linked to a number of health problems such as cardiac issues, increased cholesterol and depression, coconut oil metabolises fats in the liver and instead of turning it bad fat which is stored and doesn't move, it immediately turns it into fuel for our brain, heart and muscles.
It is recommended to have 1-4 teaspoons of coconut oil per day. If you're starting off, it's wise to start with one teaspoon and gradually work yourself up to four. One teaspoon will set you back approx. 120 calories.
But remember, combine this with exercise and healthy eating will also help in weight loss and adding coconut oil only boosts your metabolism and DOESN'T change it forever.
Add to things like salads (as dressing), cooked with some eggs in the morning, add to yoghurt, and smoothies. It can also be added to protein shakes, if you have them and straight off the spoon – just make sure it's a flat teaspoon of coconut oil. Eaten straight from the jar it's brilliant at curving your food cravings or that sweet tooth you might get after a meal.
I've heard you can add it to your coffee, provided that it's extremely hot otherwise it will float (acts like a flavoured syrup) but I personally haven't tried it in coffee.
The coconut I'm currently using is this…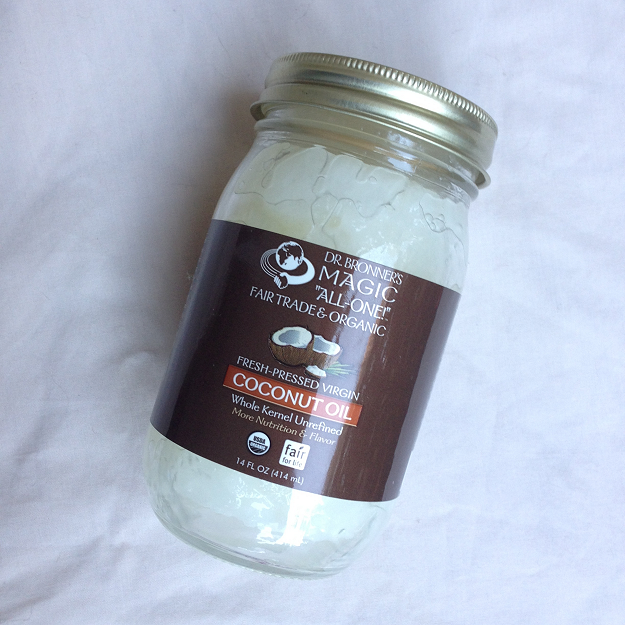 Although there are many coconut oil versions out there, I went with the most common.
Coconut oil is a pretty soft oil. I remember when I first bought this, the oil was completely solid in the shelf but once I had it in my hands and carrying it around looking at other things in the health food shop it quickly melted around the sides leaving the centre much solid and opaque but quite soft.
When left alone it will solidify again. If you live in a warmer climate, your coconut oil could very well remain a liquid even though it's on a shelf.
Things to note when buying coconut oil are:
Fresh-pressed – You want to make sure that you're getting the ripest coconuts available
Virgin – Over processed products diminishes it's quality
And when available, fair trade and organic isn't bad either.
The one pictured I bought from a health food store in Kings Cross for $16.20 for a 414mL jar, which I think is great value.
The first day I bought it, I decided that I was going to try it out as a eye makeup remover and I can't tell you how impressed I was. It didn't sting, didn't burn and removed all of my makeup effortlessly. Sure, it took two cotton pads per eye to remove everything, but I wear a lot of eye makeup anyway. I'm sure if I was just had my brows done, mascara and eyeliner I would have cleaned in one for both eyes.
I don't think I'll ever go back now that I've started using coconut oil, especially as makeup remover. I'm so impressed what it does health-wise and as a multi-function beauty product. BIG thumps up!

Have you used coconut oil? What is your favourite use for it? How do you like to eat it?
---
Hi everyone! Doing another tag today that has been circulating the beauty community.
1. Would you rather only ever wear eye makeup or skin makeup?
That's easy, eye makeup. I very rarely wear skin makeup. I often feel like I don't need it.
2. Would you rather cut off all your hair, or never cut your hair again?
Oh my! I don't know? I think I'd never want to cut my hair again, but then again my hair is so thick that I don't think I could handle it.
3. Would you rather always wear your clothes too big, or too small?
TOO BIG! Always wear clothing that is well suited to your body size. Besides, I think it would feel terribly uncomfortable if clothing would be too small, right?
4. If you were given $1000 to spend, would you rather buy clothes or makeup?
Awh, only one or another? I'd like to spend it equally between the two.
5. Would you rather wear lipstick as eyeliner, or eyeliner as lipstick?
Lipstick as eyeliner. I think it's easier to pull off.
6. Would you rather wear MC Hammer pants or Biker Shorts in public?
MC Hammer pants because MC is the man!
7. Would you rather never be able to fill in your eyebrows or only fill them in using a Sharpie?
Never to fill them again. I'd rather not to make a fool of myself with Sharpie brows.
8. Would you rather never pluck your eyebrows, or never shave your legs?
Never shave my legs. I'm pretty lucky the hair on my legs aren't very apparent.
Answering the same questions, which would you rather?
---
Q. What are some beauty tricks you suck at?
A. There are so many things I don't do very well. Where do I even begin!


READ MORE
---
I love finding tags and memes to include on my blog because I find that you get to know me a little better and I'm not so "textbook". I copied from Natalia's video on her YouTube channel, which I recommend everyone subscribe to immediately because she does some great reviews on there and is also part of the Lipstick Republic Beauty Squad family.
If you've done this tag or plan on doing it, please let me know so I can check yours out.
Enjoy!
SKINCARE
How many times do you wash your face daily?
Twice a day. In the morning, when I wake up and in the evening, usually in the shower. I often do my five minute skincare routine in the evening, which I highly recommend everyone doing.


READ MORE
---
Hey everyone! Here is a small beauty haul I did the other day…
I can do individual product reviews on any of these products; please let me know in the comments if you're interested.


READ MORE
---
What Five beauty products could you not live without?
1. Sunscreen. Living in Australia, you can't afford to not use it everyday.
2. Liquid eyeliner. I use one from Models Prefer. It's thick and lasts all day.
3. Bright pink lipstick. My favourite is #69 from Inglot.
4. Lengthening mascara. Lash Glamour Extreme Lengthening Mascara by Bobbi Brown.
5. Floral perfume. Like Vera Wang's Lovestruck.
What's your daily skincare regime consist of?
Morning: cleanse, sunscreen, moisturiser, primer and makeup.
Night: exfoliate, cleanse, rosehip oil, moisturiser.
What does your daily cosmetics regime consist of?
Eye primer, a basic neutral eyeshadows, liquid eyeliner, mascara, lip balm and a bright pink pout.
Favourite Beauty treat?
LUSH bath bombs. Once every two weeks or so for about an hour with my iPod in my ears with the latest issue of Grazia magazine.
What's your favourite beauty store?
Inglot.
Favourite Premium and Budget brands?
Premium: KORA Organics, A?sop and Urban Decay.
Budget: Essence, Revlon and Inglot.
And Hair Care?
Premium: Toni & Guy, O&M and A?sop.
Budget: Organix, Schwarzkopf and Salon Only.
What Fragrances do you wear?
'L' by Gwen Stefani is my signature scent. I also wear Vera Wang's 'Princess' and Lovestruck. Occasionally I wear 'Love' by Harajuku Lovers.
What's your "every girl must own one" item?
A hot pink lippy. Everyone can get away with wearing it. I don't care what anyone says.
And finally, best beauty tip?
Your face ends at your boobs, so don't neglect applying skincare to your neck and décolletage.
---
Last month I really got into DIY art and beauty products. So to get inspiration I flicked through many different blogs for inspiration and came across this one…

This blog has it all! Fashion, DIY, beauty, art, food and decor, and it inspires me to make this website into something just as great.
So, if you're into that stuff and love it just as much as I do – CHECK IT OUT! It is truly inspiring!
---
I love coming across beautiful blogs like this. It's nice to know that there are some beauty bloggers who don't follow trends and chase after the newest beauty cult buy.
When I started this blog I only had one objective: everything that was to be featured on here was going to be beautiful, healthy, animal-friendly and when and where I could, organic.
So it should come to no surprise that I fell in love with this blog: The Flaxen Owl. Owned and run by a woman named Hayley who buys natural and organic beauty products.
If you're interested in natural, organic and cruelty-free products, you can learn a thing or two from The Flaxen Owl. I sure did!
PS. Hayley, I love your work! ♥
---

What is your most inexpensive product?
Probably Burt's Bees Beeswax Lip Balm. Around $6 and is so good for your lips.
What is your most expensive product?
Pretty much anything by MAC. It's so expensive in Australia. Lipsticks are $33!
What beauty item do you have the most of?
Lip balms, hands down! I have them all over the house and places I regulate, like my boyfriend's house, office desk and work desk. And it varies a lot.

What beauty product do you have a love/hate relationship with?
Tinted moisturiser. I use KORA Organics Tinted Moisturiser and I love it because it has sunscreen in it but at the same time I don't like the tint in it. The tint is fine and works well with my complexion but just sometimes it gets on my nerves.
What has been the hardest to find?
OCC nailpolishes! OCC doesn't ship nailpolishes to Australia and there aren't many online stores that stock OCC, let alone their polishes. Someone please ship OCC to Australia!!
What is your biggest beauty pet peeve?
There are a few but I can't stand girls who over-puck their eyebrows. I don't get it. Thin eyebrows makes you look older. So a beautiful 17 year-old girl with thin eyebrows can easily look 37. Also I can't stand when girls wear heavy eye makeup and a bold lip colour. One of the first rules of makeup is to not over do it; pick either your eyes or lip to make a statement on and make the other subtle. So, if you're going for a smokey eye, dull down the lips with a nude. Or have light makeup on the eys and brighten the lip. Not both at the same time.
What are your most delicious beauty products?
I like the NYX Soft Matte Lip Cream. I find that it smells like cupcake batter. Other than that I love anything that smells like watermelon.
What beauty product can't you get enough of?
KORA Organics. I swear by the entire skincare range. I particularly love the daily hand cream, the lip balm and the purifying day and night cream.
What beauty product use the most?
Lip balm. I always feel the need to have something on my lips.

What beauty product do you neglect due to laziness?
It's not due to laziness, but because due to having a bad memory – sunscreen. There have been sometimes I've forgotten to apply it because I'm in a rush or something, but I normally do wear it. It is extremely important to wear especially when you live in Australia.
What beauty routine do you find the most challenging?
Getting waxed and my hair cut/coloured. Again not because of laziness but to find the time to get down to the salon to get all that stuff done.
What beauty routine are you guilty of not doing properly?
Foundation. I can't do it to save my life. Lucky for me though, I don't need to wear it most of the time. And because I don't have to wear a lot of foundation I haven't really bothered to learn how to perfect it.

What beauty product gives you the most confidence?
A really nice eyeliner. Doesn't matter if its liquid or pencil, it just has to be good and something I can work with and won't melt off my face.
What beauty product do you swear by?
KORA Organics, Burt's Bees and a really good lipstick. Good skin, good treatment and some colour. Can't go wrong there.
What beauty product do you insist on having in your makeup bag?
There's a few. Burt's Bees Beeswax Lip Balm, a lip liner and a lipstick. Also, a small travel case of makeup wipes aren't bad either.
What attributes do you find most attractive about the opposite sex?
This isn't really a 'beauty' question, but I'll still answer it. I'm going to sound so weird when I say I love guys with nice straight teeth. So many of my friends don't understand it but dental hygiene is a must for me.
What is the one product you can't live without?
A good skincare range. I can live without the colour and the grooming, but unlike the makeup my skin is something that I'm going to be living in for the rest of my life, so its best to look after it.
What beauty product is your most loved?
Besides my Burt's Bees, I love KORA Organics Daily Hand Cream. I can't get enough of it. The smell, the texture and how it makes my hands feel afterwards. Love.
What item would you most like to receive as a gift?
I'd love to get some OCC nailpolishes. Particularly Pool Boy. Also the Naked2 palette by Urban Decay.
What beauty product do you wish you could pull off?
A nude lipstick. Any sort. Pinky nudes, peach nudes… I wish I could pull any of them off but I can't. Kinda sucks when you're entire face is monotone.
What beauty attributes do you wish you had?
I don't really wish I had anything. I mean, I work with what I got. But I would love a pretty beauty mark like Marilyn Monroe or something like that. And NO, getting a Monroe piercing is not an option because I hate surfave piercings.