TAG ARCHIVES: A?sop
---
I feel like I haven't done one of these in forever, so I feel a little rusty. But, I've loved a lot of products this month…
---
---
Oh my goodness, September has flown by! I celebrated a birthday earlier this month, paid off all my debt, became a beach bum AND vegetarian. A lot has changed this month and here are the things I loved…
---
The colder seasons are my favourite time of the year. I love wearing woolies, walking around in Uggs and sipping mulled wine in the evening. Not to mention the overnight snuggles.
Last year I wrote a Autumn/Winter survival guide and threw in a few products that I love to help winterproof myself. This year I thought I'd do an updated version and include a few new products I've found works wonders on me.
Enjoy!


READ MORE
---
I was recently asked by one of my workmates what products I use each morning to get ready for work. My makeup look is pretty basic and very rarely changes and while I do enjoy colourful makeup looks I always seem to stick the neutrals everyday.
These are my go-to products and they haven't failed me yet. I didn't include things like eyeliner, mascara or lipstick because mine varies so often (especially lipstick) that by the time this goes live I would have changed my lip colour several times already.
---
Hello mid-2013! Time has really flown hasn't it. Urgh, I can't believe we're finally mid-year. Crazy!
Here are my favourites for the month of June. You'll find a lot of these I've use at night/before bed. I'm not too sure why, but I hope you enjoy it.
A?sop Oil Free Facial Hydrating Serum, $63.00 (100mL)
This has been part of my night skincare routine for a while now but because it's become a lot cooler with the change of seasons I rely on it more than ever.
After I've showered and done my five minute skincare routine I apply this product before my moisturiser and eye cream and them go to bed. In the morning, my skin is soft, hydrated and clear.
Sukin's Rose Hip Hydrating Day Cream, $23.95 (120mL)
I'm still in the process of writing a product review on this but I have to include it in my favourites this month without it. This stuff is AMAZING!
This has been my nightly moisturiser of choice and I just can't fault it. It's thick but isn't greasy on the skin, it's got rosehip oil in it so if you somehow skip your nightly application of it this product has you covered. A little goes a long way and when applied at night your skin is so dewy in the morning.
I've even worn this as a daily moisturiser on particularly colder morning (or when I have a very early morning start) and it really helps my skin stay hydrated and not flaky. 120mL jar will last you forever.
Jack Black Intense Therapy Lip Balm in Lemon & Chamomile, $9.95 (7g)
I love Jack Black Lip Balm, there has been no secret on this blog about that. I recently treated myself with a purchase of both the Mint and Shea Butter (my all-time favourite) and thought I'd try out the Lemon & Chamomile to see how it goes. I've been using this just before bed and by the morning, lips are smooth and soft.
Kiehl's Creme De Corps Soy Milk & Honey Body Polish, $38.00 (200mL)
I usually have my showers in the evening and this month I've been really enjoying this product to scrub away the crazy day with this. It's another product I'm going to be doing a product review on in time because this stuff is AMAZING!
I suffer from Keratosis Pilaris (KP) on the back of my arms and I've found that this helps immensely with removing that extra skin without being too harsh on the skin and without the use of a loofah.
Kiehl's Creme De Corps Soy Milk & Honey Whipped Body Butter, $48.00 (226g tub)
After my shower I like to apply this all over my body – particularly on my elbows and arms – and by the morning my skin feels really soft. Especially when I've applied my Winter woolies on top and jump into a warm bed.
I've done a product review on this if you're interested.
ColorWOW One-Minute Transformation Styling Cream, $29.99 (120mL)
Now this is something I'm in love with. This was featured in a post I did last week introducing you to the new ColorWOW haircare products. This was one of the most amazing products I've tried in a while that helps control flyaways and frizz without making your hair look like it's caked in product, gel or hairspray.
Inglot circle freedom lipstick; no. 60, $10 (lipstick only)
This has been my most-worn pink lip colour this month, which I often do but more on a weekly basis. I've been leaning towards a more truer pink – not a red-pink or even a bright pink (sorry Candy Yum-Yum, you're just going to have to take a seat for a while). I love how many compliments I get wearing this colour and I don't even mind that I have to apply it with a brush.
1. Sleepy teas
2. Body scrubs
3. Vodka Sunrises
4. Scarves
5. Law & Order: SVU
I've been pretty much listening to this all month…
---
Ah May. The last month of Autumn but still cold enough to convince us it's Winter already.
I'm sorry once again that my empties are late.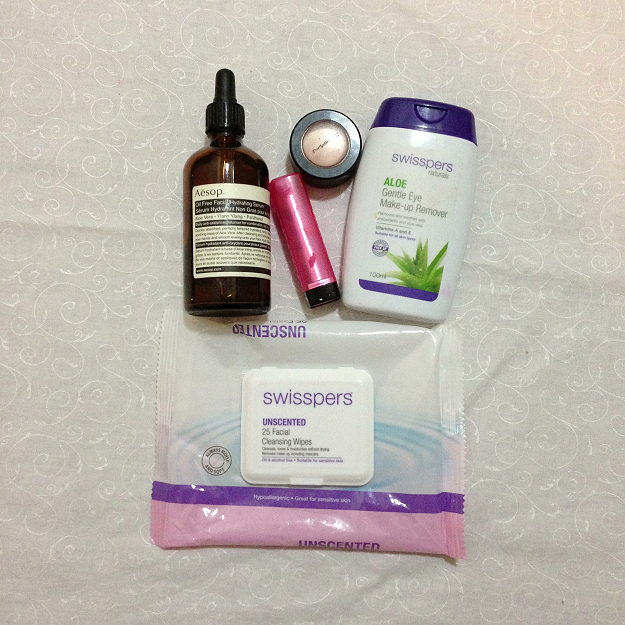 READ MORE
---
I feel like I haven't done this in forever! Well, I've decided to bring it back this month. Here are my five favourite things things week!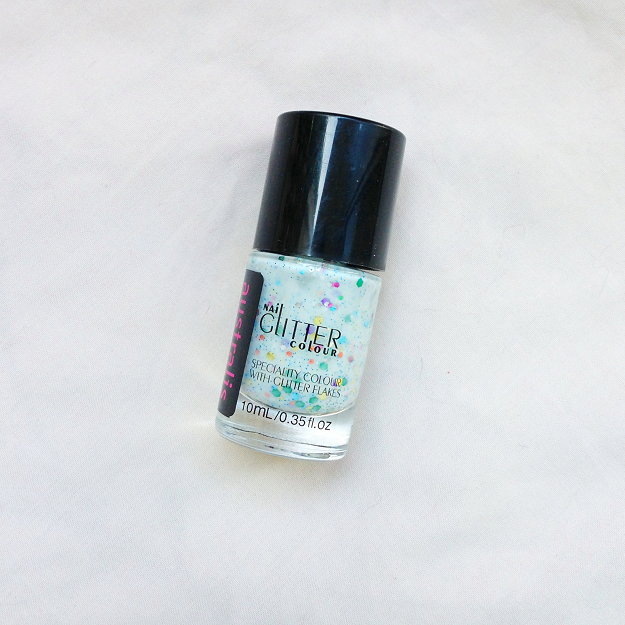 Australis Nail Glitter Colour nailpolish in 'Milky Way'
Although this isn't a very "Autumn" shade but I've been obsessed with creamy nail polished lately. I've been eyeing this for a while and decided to pick one up on the way through Priceline one afternoon. It was easily the best decision. It does take a little while to dry between coats but it's well worth it.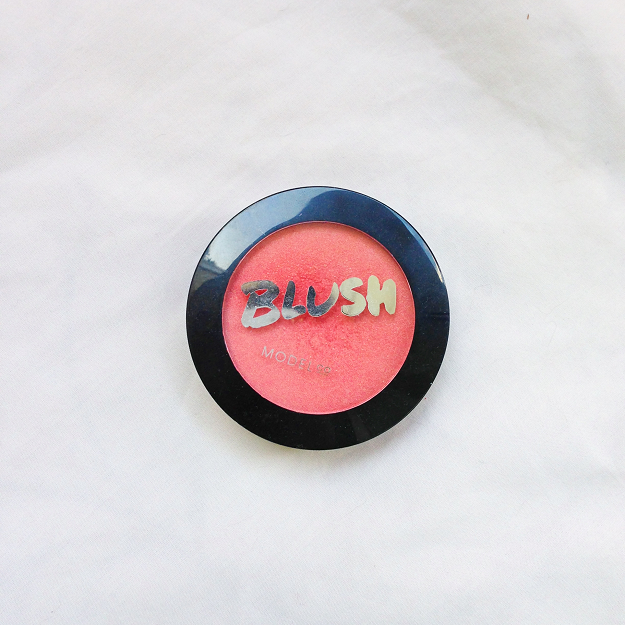 Model Co.'s Blush in 'Peach Bellini
I don't know why it's taken me this long to realise that pink blush doesn't suit me. It's the peach and the corals that do! Point rectified.
I have been in love with the blush ever since I got it. It's a deep peach with gold flecks through it but isn't too chunky or chalky. It also isn't very pigmented but you can build it up to the intensity you want.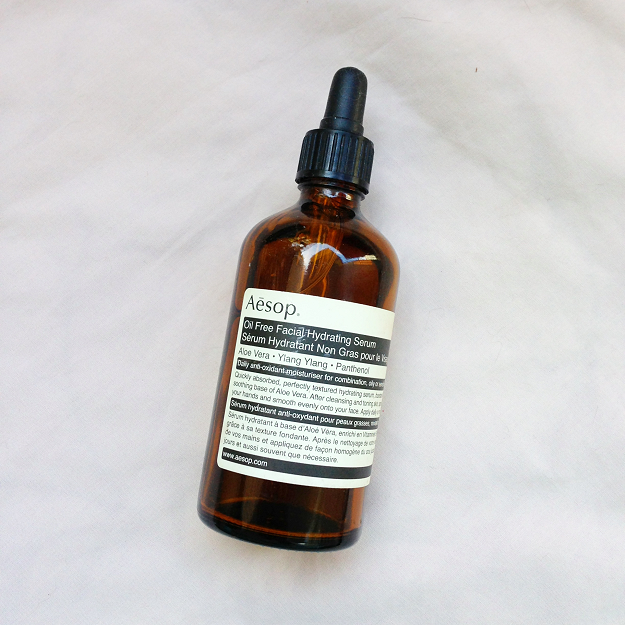 A?sop Oil Free Facial Hydrating Serum
I rely on this throughout the colder seasons because my skin dries out so quickly. I apply this after sunscreen but before moisturiser. Because it's light it doesn't make my skin too shiny, which is perfect for people with oily/combination skin.

Lip Love Lip Balm
I bought this at the Easter Show last month and I've been in love with it ever since. It's made with organic rosehip oil, honey and virgin olive oil. It's not thick so it doesn't become sticky and cake your lips too much. It also doesn't have a scent to it which I like, especially in the colder weather too.

Face of Australia's Mineral Therapy Illuminator in 'Angel Blush'
I'm so glad that I've finally got my paws on this. It gives the high points of my face such a dewy glow. Also, because of the shade it also frames my face a lot better than bronzer. The amount of product in this tube to what you actually need is ridiculous. This one tube will last you a lifetime.

What did YOU love this week?
---
I love finding tags and memes to include on my blog because I find that you get to know me a little better and I'm not so "textbook". I copied from Natalia's video on her YouTube channel, which I recommend everyone subscribe to immediately because she does some great reviews on there and is also part of the Lipstick Republic Beauty Squad family.
If you've done this tag or plan on doing it, please let me know so I can check yours out.
Enjoy!
SKINCARE
How many times do you wash your face daily?
Twice a day. In the morning, when I wake up and in the evening, usually in the shower. I often do my five minute skincare routine in the evening, which I highly recommend everyone doing.


READ MORE
---
It's Sunday! You know what that means! It's FACE MASK SUNDAY!
Today I'm using A?sop's Primrose Facial Cleansing Masque.