CATEGORY ARCHIVES: Ask Reese
---
This was recently asked by one of my closest friends. After having a shocking couple of months, I've still managed to be thankful and grateful of what I have in my life everyday. Here are fifty things…
My daughters: LC and Andre C. Hamlin

Driving my car along the beach

Buying fresh flowers every week for my home

Nice brows

My job

Soy lattes. Bonus points if it's made by a French man

My family: dad, brother, mum, sister and grandparents

Lip balm

Sleeping til noon on a school day

Vegan banana bread

Beach hair

Wearing Mary Jane pumps with skinny jeans

Stained lips

Red nails

80 and 90′s music

Ellie Goulding

Cheat days

SnapChat

Vodka Sunrises and a good red wine

Mid-week date nights

Bikini days

Walking on sunshine; literally and the song

Glasshouse candles

The Little Mermaid

Wearing boys shirts

Citrus scented skincare products

Baths

Nail art

Organic smoothies

Silver jewellery

White Rose tea

Winter woolies

Colour coordinated Havaianas

Reading books in hammocks

Scrabble

Dancing like no one's watching

The smell of the ocean

Seeing the world through a plane window

Being outside your comfort zone

Crisp white 1200 thread count bedsheets

Combat classes at the gym

My BFF, Zoe

Masculine hands

Seeing your friends eyes light when they see you

Payday treats

The country side

Midnight affection

Wearing purfume to bed

Eating your favourite breakfast in the sunshine

Driving with the top of your car down
---
It has been MONTHS since I last did a "What can you NOT stop wearing?" post, let alone a "Ask Reese" post.
I'll definitely be bringing this back in the next few months because there are times where I get obsessed with one product for weeks (which often gets thrown in with my monthly favourites) but I don't really go into much detail about it.
So, this is what I can NOT stop wearing…
---
I was recently asked by one of my workmates what products I use each morning to get ready for work. My makeup look is pretty basic and very rarely changes and while I do enjoy colourful makeup looks I always seem to stick the neutrals everyday.
These are my go-to products and they haven't failed me yet. I didn't include things like eyeliner, mascara or lipstick because mine varies so often (especially lipstick) that by the time this goes live I would have changed my lip colour several times already.
---
Q. I am so confused about cruelty-free. There are brands who state they don't test on animals, yet their parent company do. How do I know which brands don't and which one I should steer clear of?
A. This is always such a tough subject for me to answer because I know I'll contradict myself to a degree.
The way I "gauge" which brand I use all depends on the individual company themselves, whether or not they do or do not test.
For example…
L'Oréal, Maybelline, Max Factor all test. So products what wear any of their logos I won't use.
Products such as M.A.C, L'Occitane and Bobbi Brown are brands who state that don't yet, they parent company do. These brands are the ones I still buy.
But I know what you're thinking: why do I still buy products from companies who's parent company still test? Truth is, you can take the whole cruelty-free as far as you want. If you feel like it's wrong to buy products from a brand who's parent company doesn't set an example in favour of cruelty-free, than that's your decision.
I should also make a point that I don't judge people on whether or not they choose to buy animal tested products. It's their decision and I don't think they're evil or immoral if they do.
But if you're like me and are happy with the brand stance on cruelty-free, regardless of what the moral standards of their parent company than GREAT! Unfortunately, we don't live in an ideal cruelty-free world but doing your part and not buying from brands that freely state they do test on animals is as good as you're going to get, because over time it does get exhausting.
Ways I keep up to date with the latest cruelty-free brands is by visiting the Peta Cruelty-Free Database which has the biggest list of brands that do and don't test on animals. Again, it's up to you on how far you want to take it.
Other ways I find out is by doing a quick Google search. When I see a brand that I'm not too sure of, I open Safari on my iPhone and type in "[BRAND] test on animals" and it usually comes up with a quick blurb on whether or not they don't.
I have found that there have been brands that are deceiving; they state they don't but you hear on the grapevine somewhere they do (Revlon is always one that gets me). Do some extra research when you get home and you can make the decision yourself.
Also, keep an eye out for logos on packaging which does help…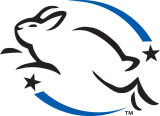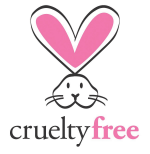 The Leaping Bunny and the Cruelty-Free Bunny logos are the most popular. Brands undergo rigorous tests and regulations before they're allowed to have these logos on their packaging, so you know that these products are cruelty-free.
I recently received a comment about Urban Decay sale to L'Oréal and how they'll no longer be cruelty-free.
This is one issue I've still got mixed feelings for. From my understanding, although L'Oréal have bought Urban Decay, the brand will still wear the cruelty-free bunny logo and will still maintain cruelty-free practices with their products.
How much truth there is to that is really up the consumer. Personally, I'm not sure if I will or won't buy Urban Decay. When I think about how many Urban Decay products I do own and use daily, it looks as though I will buy them again.
But only time will tell on how long they remain cruelty-free.
Lastly, always remember…

What is YOUR take on cruelty-free? How far do you take it?
---
Q. What the benefits of coconut oil?
A. Let me start off with stated… I wish I got onto this sooner. But as they all say, better late than never.
So… what's the big deal about coconut oil? Well, these are a good reason…
HEALTH BENEFITS
BEAUTY USES
Dandruff remedy
Acne treatment
Cold sore healer
Boosts metabolism
Fades Keratosis Pilaris
Aids weight loss
Heals cuts and scrapes
Kills bacteria
Curves food cravings
Frizz tamer
Conditioning hair mask
Anti-wrinkle eye cream
Eye makeup remover
Facial cleanser
Lip balm
Massage oil
Natural deodorant
DIY body butter
Sunscreen
Cuticle oil
Bath oil
Stops stretch marks
Shaving salve/cream
Skin moisturiser
Softens and smooths cracked feet
So, as you can see it's good for a multitude of things for both your health and very useful in all aspects of beauty.
But WHY is it so good?
Well… coconut oil isn't the same as trans fat oils. Coconut oil (which, let's face it… is fat – but a GOOD one) and trans fats (ie. BAD fat) don't behave the same way. While trans fats are linked to a number of health problems such as cardiac issues, increased cholesterol and depression, coconut oil metabolises fats in the liver and instead of turning it bad fat which is stored and doesn't move, it immediately turns it into fuel for our brain, heart and muscles.
It is recommended to have 1-4 teaspoons of coconut oil per day. If you're starting off, it's wise to start with one teaspoon and gradually work yourself up to four. One teaspoon will set you back approx. 120 calories.
But remember, combine this with exercise and healthy eating will also help in weight loss and adding coconut oil only boosts your metabolism and DOESN'T change it forever.
Add to things like salads (as dressing), cooked with some eggs in the morning, add to yoghurt, and smoothies. It can also be added to protein shakes, if you have them and straight off the spoon – just make sure it's a flat teaspoon of coconut oil. Eaten straight from the jar it's brilliant at curving your food cravings or that sweet tooth you might get after a meal.
I've heard you can add it to your coffee, provided that it's extremely hot otherwise it will float (acts like a flavoured syrup) but I personally haven't tried it in coffee.
The coconut I'm currently using is this…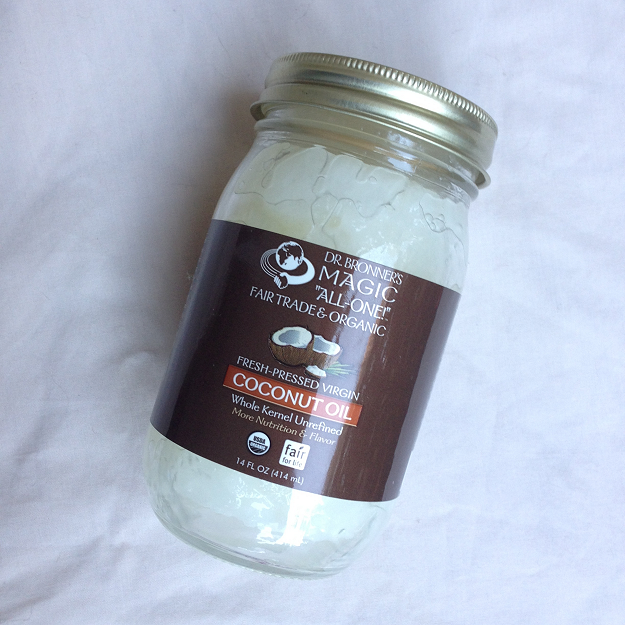 Although there are many coconut oil versions out there, I went with the most common.
Coconut oil is a pretty soft oil. I remember when I first bought this, the oil was completely solid in the shelf but once I had it in my hands and carrying it around looking at other things in the health food shop it quickly melted around the sides leaving the centre much solid and opaque but quite soft.
When left alone it will solidify again. If you live in a warmer climate, your coconut oil could very well remain a liquid even though it's on a shelf.
Things to note when buying coconut oil are:
Fresh-pressed – You want to make sure that you're getting the ripest coconuts available
Virgin – Over processed products diminishes it's quality
And when available, fair trade and organic isn't bad either.
The one pictured I bought from a health food store in Kings Cross for $16.20 for a 414mL jar, which I think is great value.
The first day I bought it, I decided that I was going to try it out as a eye makeup remover and I can't tell you how impressed I was. It didn't sting, didn't burn and removed all of my makeup effortlessly. Sure, it took two cotton pads per eye to remove everything, but I wear a lot of eye makeup anyway. I'm sure if I was just had my brows done, mascara and eyeliner I would have cleaned in one for both eyes.
I don't think I'll ever go back now that I've started using coconut oil, especially as makeup remover. I'm so impressed what it does health-wise and as a multi-function beauty product. BIG thumps up!

Have you used coconut oil? What is your favourite use for it? How do you like to eat it?
---
Hello beautifuls! I've been getting this questions asked A LOT lately. You asked, I answered. Enjoy!
Q. How do you fill in your brows and what products do you use?
A. It has taken me months – quite possibly closer to a year – to master the art of brow shaping. It's taken this long because I've had so many hit and misses with brow kits and other brow products. Now, I finally found products that works for me.
Firstly… I always start my makeup with my brows. After washing, applying sunscreen and moisturising my face in the morning I do my brows first before I get into anything else.
As far as grooming goes, I get my brows waxed at Leah's Waxworks in Bondi Junction every 2-3 weeks and see a lady there named Shaz (she works Wednesday through to Sunday). A brow wax costs $10 and they've always done an excellent job with my brows. I generally get my brows waxed as a "tidy up" so the shape is neater. They also have brow threading (which Shaz is a pioneer of) for $20 if waxing isn't your thing.
I do pluck my brows from time to time but only the rouge hairs that grow back which is nowhere near the brow itself so I don't ruin my brow shape.
My brows have always been sparse and not until in the last few years have I really taken notice of how thin they are.
I've tried to use the lash and brow serums to encourage hair growth but I find that it doesn't really work for me. The follicles aren't there so although the hairs will grow and shed less, I will never have full, thick, bushy brows. Such is life.
So… everyday, I wake up early and I sit in front of my mirror and fill in my brows.
Now, one thing you should know: BROWS ARE SISTERS – NOT TWINS! So don't think your brows are ever going to be perfect or exactly alike. And if they do, well… good on them. But they shouldn't.
Also, if you have light hair – your brows should be two shades darker. This ensures your face is framed nicer and it doesn't look like you don't have any brows.
If you have darker hair (including our redheaded sisters) – your brows should be two shades lighter so you don't look too goth (unless that's the look you want to achieve).
Here are the products I use for my brows…
Models Prefer Retractable Eyebrow Pencil in 'Medium', $8.99
I love this product because it's a good waxy product which is highly pigmented and is extremely cheap! It has a handy spooly on one end so you can groom as you go. I've never been a fan of pencils that you need to sharpen (I'm way too lazy for it), but this is good because it's retractable and you can control how much is used and accurate precision on filling in brows.
It does look a little light for me, but when I add the brow cake on top it does darken it up a lot more to a perfect shade.
Available in three shades (dark, medium and light) at Priceline.
Illamasqua's Eye Brow Cake in 'Peak', $22.00
After I'm happy with how I've filled in my brows I add just a bit of this on top to "set" the pencil in place. I use any old small angled brush because it's small and precise. Some might say it's unnecessary but I like to. It also helps if I've missed spots with the brow pencil.
Available in six other shades.
Then to tidy things up, I just take a couple of cotton tips, dipped in some makeup remover and run them around the perimeter of my brows so it's neat and tidy.
Some people use concealer to tidy it up but I often find that using concealer (because it's often lighter than your skin tone) just highlights the forehead area which looks odd to me.
This takes up about ten minutes of makeup time to do. I can do it in five minutes but it's something I enjoy doing slowly and taking my time on. After I'm happy with how they look, I continue with the rest of my make up.

How do you fill in your brows? What products do you use?
---
Q.
What are your favourite magazines?
A. Let me just start off by stating: I read A LOT of magazines and when I mean a lot, I mean – A TON!
I have many subscriptions and I highly recommend them if you love reading particular magazines every month. It not only saves you money; many monthly magazines offer as little as $50 for a whole year (12 issues) subscription and you also receive your copy the week before the new issues hit the stands as an added bonus.
I have a terrible habit of not recycling my magazines in a orderly fashion. It took me a time to have accumulated over 50kg worth of magazines to realise that I can't be a magazine hoarder. Once I finish reading the issue it usually gets stored in my magazine racks and I never touch them again.
The system I've devised is simple: keep a year's worth of magazines. That way the compulsion to hoard is satisfied but then again I'm not going overboard.
So once a new issue is out, ie. January, I get rid of the previous year's January issue. That way I always have a full year in my collection that I can always flick back to if needed.
I don't really like the celebrity gossip magazines, unless it's fashion related or how they've worn their makeup. Who married whom, break-ups and babies with odd names aren't really my thing. I especially don't enjoy reading "A source says…" over and over again.
Here are my favourite magazines…


READ MORE
---
I've been asked this question a lot lately…
Q. How do you tell between a GOOD eyeshadow from a BAD eyeshadow?
A. Truth is, there is no 'good' or 'bad' eyeshadow. They're all good, really. For me, it's all got to do with the colour pay off.
Observe…
GOOD
BAD

Can you see the difference?
I find that if you put your finger in the eyeshadow, run it through lightly and you still see the ridges of your finger print – the eyeshadow isn't so awesome. You need to put it down and move on, no matter how beautiful the shade in.
This is because the pigment that make up the eyeshadow is limited. The less the pigment (often mica) the less colour pay off.
Mica is extremely expensive and so the less mica used, the less they have to buy to put in their products.
That, to me, is completely unfair. Especially when we have to fork out $33 for one eyeshadow.
How do you gauge a good eyeshadow verse a bad one?
---
You can tell I'm taking my Blog Crush very seriously when I decided that I'm going to copy something she posted a few months back.
7 FACTS ABOUT ME
…That you probably didn't read in my 'About me' page.
1. I really detest people touching my feet. It absolutely grosses me out.
2. My cat has a first and a middle name, which is why she is nicknamed LC. Her middle name, Coco, was originally going to her first name but I changed it at the last minute.
She is named after another animal but answers to 'chicken' even though she's a CAT. Figure that one out!
3. I judge food by the way it looks, which sometimes works but often doesn't. I ate cauliflower for the first time two years ago because I always thought it looked and therefore tasted yuck. Clearly I was wrong.
4. I still love Disney princess movies. My favourite is The Little Mermaid because I could relate to her the most. I am a adventurous Daddy's Girl always seek more out of life.
5. I went through a stage where I thought double denim was COOL. …I was fourteen and haven't sported it since.
6. Every boy I ever dated or liked have ALL been left-handers. By total accident too.
7. I have eight tattoos and I've had over 20 piercings in my lifetime. None of which I recommend anyone get because you will surely regret it later.
---
I am currently IN LOVE with the BYS Scented Nailpolish, particularly the Rose scented one. I have Lime, Blueberry, Floral and Bubblegum but this is by far my favourite.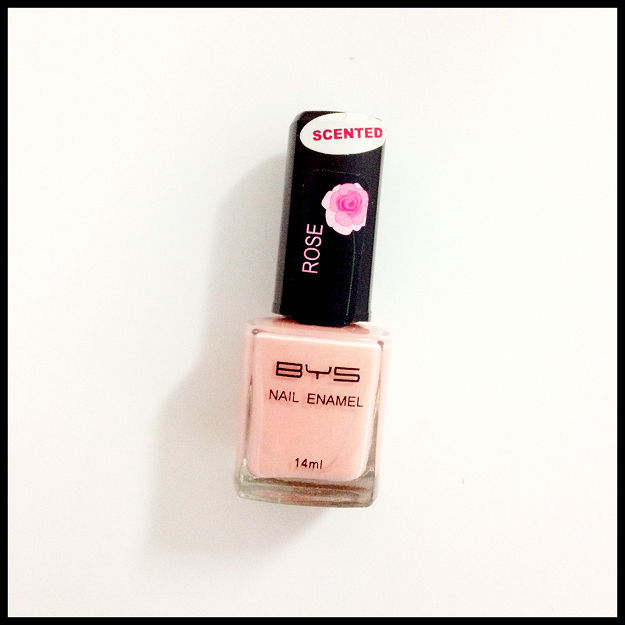 Even LC is a fan
I have to admit I was pretty skeptical on the scent. When I first sampled in the store, I put the bottle up to my nose and of course, smelled nailpolish. I thought there was no way this was going to smell like roses.
Later on, I asked the sales assistant about the nailpolish. She said it had to be dry for you to smell it.
I thought, I'd give it a go with Rose – play it safe with a scent that was going to be easy to distinguish when dry.
Took it home and what do you know…? They smell of roses. I was so impressed by it I went back the next day and bought more.
Truth is though… the scent doesn't last forever and if you put a top coat one – which is needed with all nail colour application, the scent of the nailpolish won't be as apparent as once thought. In fact, when I put a clear top coat on it I couldn't smell it anywhere.
However, if you decide not to put a top coat the scent of the nailpolish should last about a week. But with showers and regular hand washing the scent disappears slowly. Not unless you refresh the nail colour daily.
Definitely try it out if you ever come across it. BYS scent nail polish can be found at GLOSS stores for $4.95 and come in 18 difference shades and scents.