---
It's now Autumn in Australia and one of the most important things we need to do is keep parts of bodies warm and hydrated. In Australia we all love pawpaw ointment. It's a basic staple in anyone beauty bag.
The most common on is Lucas' Papaw Ointment, but for a while now there has been much stigma behind since it was recently discovered that its petroleum based.
Today I decided it would be a good time to road test a few pawpaw ointments on the market and compare them. Some of these I bought online and others I bought from a pharmacy in Australia.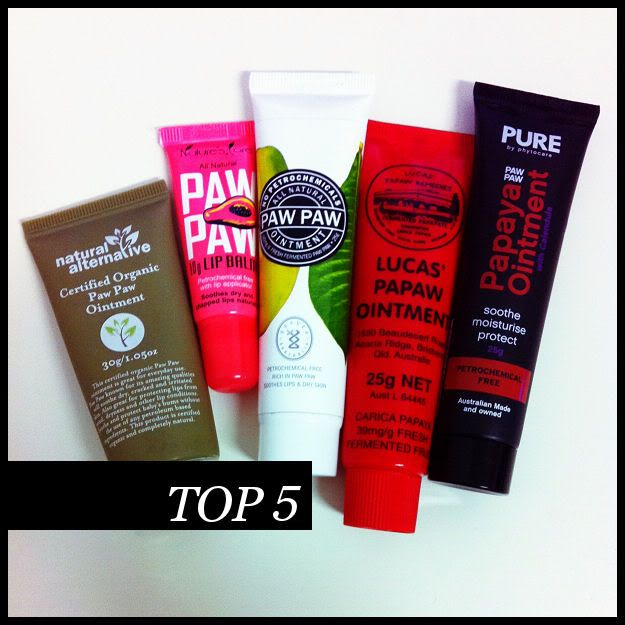 Natural Alternative Certified Organic Paw Paw Ointment, $7.95* (30g)
This is probably my new favourite pawpaw ointment. It's certified organic (
OFC
) its also cruelty-free, Australian owned and made.
This product isn't at all fancy and I don't think it needs to be. Very basic packaging and overall, a great product. I like that it comes in a 30g squeeze tube. It has no lip applicator but I prefer it that way. I find a little goes a long way too and lasts a decent amount of time. There really isn't much of a scent or taste to it either.
More info at
NaturalAlternative.com.au
Nature's Care All Natural Paw Paw Lip Balm, $2.69* (10g)
I was recommended this one by a friend of mine and at first I liked it but over time I began to dislike it. This product smells extremely sweet, to the point where it becomes overpowering.
It has a lip applicator and is labelled as a lip balm, so I'd be assuming it's only meant to be used on the lips. (I haven't tried it on as anything else – if you have, please let me know).
There is also an orange packaged version of this. It's by a company called Healthy Care, which looks like Nature's Care repackaged or a sibling brand. Both are identical except one is pink-salmon colour and the other is orange.
More info at NaturesCare.com.au
Brauer All Natural Paw Paw Ointment, $5.44 (25g)
I'm a little on the fence with this product; I don't love it but then again I don't dislike it. This product is a little fragrant for my liking and it also has a bit of a grainy texture to it so upon application doesn't feel silky on the lips but is OK on the skin. It is also very thick too and doesn't need a lot of product for a small area.
Comes in a 25g tube (pictured), a 100mL tub and 15g metal jar as a lip butter.
More info at Brauer.com.au
Lucas' Papaw Ointment, $5.99 (25g)
My beloved Lucas' Papaw Ointment. I started using this when I was still in high school and have relied on it ever since.
Although there is a lot of talk about how its just petroleum jelly, I still find that it works better than just Vaseline. I like its scent – it's not overpowering or too sweet – and the product doesn't split (the oils from the carrier product) like others do.
More info at LucasPapaw.com.au
Pure Papaya Ointment with Cadendula, $6.58* (25g)
This is my least favourite out of all the paw paw ointments.
The texture is like a cream and can only imagine if there was heat applied to it it'll be just a big runny mess. The scent isn't sweet and does smell very similar to Lucas' Papaw Ointment over all the others, but the product itself is grainy and overall not that great especially for what I paid for it.
More info at Phytocare.com.au

My favourite is definitely the Natural Alternative Certified Organic Paw Paw Ointment by far. For how much I paid and what it's already done for my lips, I'm beyond amazed. I'm trying to get into more certified organic products too.
Also, I just can't fault Lucas' Papaw Ointment. It's worked for me for years and if it is just petroleum jelly, it's AMAZING petroleum jelly. Better than Vaseline, that's for sure. It's a lot more versatile than the other paw paw ointments I've tried.
* – Price is what I paid in Australian dollars. May vary.

RELATED POSTS: