---
Well, here we are at the end of the April.
I don't have many favourites this month, for a change. At the beginning of the month my skin went absolutely ballistic! It wasn't a breakout but it was extremely sensitive to pretty much everything I put on it despite me using certain products for years. It was sudden (literally overnight), no warning, just didn't want to co-operate and I really struggled with trying to get it to settle down. So I was really afraid of try out new products because I didn't want to irritate my skin further.
But here are the things I did love this month and which didn't contribute to my skin's tantrum.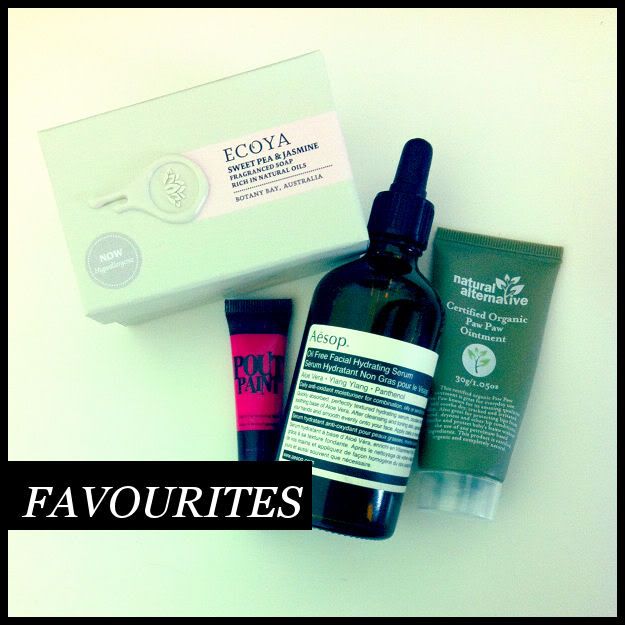 Aēsop Oil Free Facial Hydrating Serum, $63.00 (100mL)
I bought this in a mass Aēsop purchase earlier this month. This product was recommended to me by a friend of mine who suffers from eczema.
I have a oily/combination skin along my T-zone and sensitive/dry cheeks (only someone like would get a double whammy like that!) so I've always found it difficult to find a few things that work for my skin type(s). This works for me though because it hydrates the dry areas of my face and because it's oil-free doesn't make my T-zone go mental either. Yes, it is on the expensive side but well worth it.
Natural Alternative Certified Organic Paw Paw Ointment, $7.95 (30g)
I'm all about organic skincare these days. I just recently (and I'm pretty sure this has been known for quite some time) read that my beloved Lucas' Papaw Ointment was petroleum-based. I still love Lucas' though. I've used it for years and I've never really had a problem with it, but thought I'd shop around for a organic alternative, til I came across this one. I'm in love! There's no real scent to it (definitely smells nothing like what you're used to) but it's amazing. You just need a tiny little bit on your lips and it absorbs right in.
Sleek Pout Paint in 'Pinkini', $8*
Yes, a product I couldn't stop wearing this month. A friend of mine bought this from the UK for me last year. I think I like this more than the OCC Lip Tars because the consistency of the Pout Paint is thicker and therefore won't feather as much.
Ecoya Sweet Pea & Jasmine soap, $14.95
LOVE this soap! I'm a huge fan of the Ecoya Sweet Pea & Jasmine candles and so I was stoked when I found out that the scent came in lotion and soap form.
The soap doesn't really smell like the candles but it still smells amazing.
1. Katy Perry – Dressin' Up
2. Ellie Goulding – Your Song (cover)
3. Kate Miller-Heidke – Sarah
4. Conor Maynard – Can't Say No
5. Delta Goodrem – Sitting On Top Of The World

If you haven't bought this album yet, I suggest you do it immediately!
1. Pinterest. (Follow me: ReeseATOMIC)
2. Ecoya Sweet Pea & Jasmine Metro candles
3. Coffee dates with friends
4. Family Guy Season 10
5. Why Men Love Bitches by Sherry Argov
* – Price may vary.

RELATED POSTS: