MONTHLY ARCHIVES: April 2012
---
Well, here we are at the end of the April.
I don't have many favourites this month, for a change. At the beginning of the month my skin went absolutely ballistic! It wasn't a breakout but it was extremely sensitive to pretty much everything I put on it despite me using certain products for years. It was sudden (literally overnight), no warning, just didn't want to co-operate and I really struggled with trying to get it to settle down. So I was really afraid of try out new products because I didn't want to irritate my skin further.
But here are the things I did love this month and which didn't contribute to my skin's tantrum.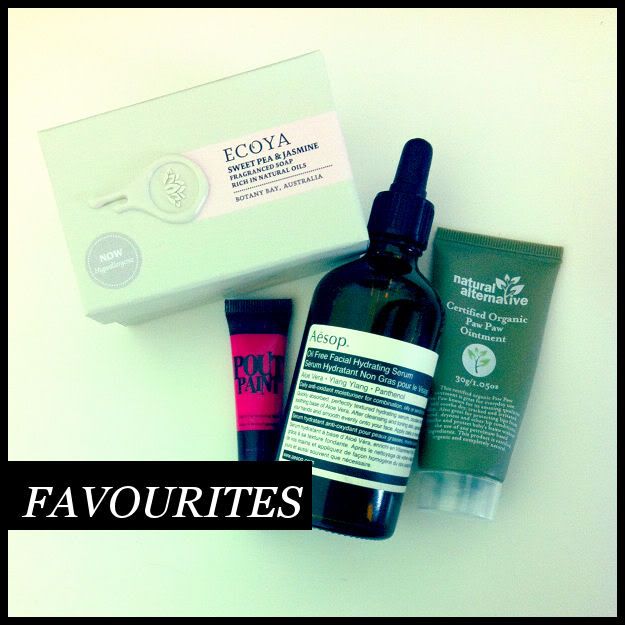 ---
I have this song playing on my iPod on repeat. It's kind of sad when you prefer the cover over the original.
---
It's now Autumn in Australia and one of the most important things we need to do is keep parts of bodies warm and hydrated. In Australia we all love pawpaw ointment. It's a basic staple in anyone beauty bag.
The most common on is Lucas' Papaw Ointment, but for a while now there has been much stigma behind since it was recently discovered that its petroleum based.
Today I decided it would be a good time to road test a few pawpaw ointments on the market and compare them. Some of these I bought online and others I bought from a pharmacy in Australia.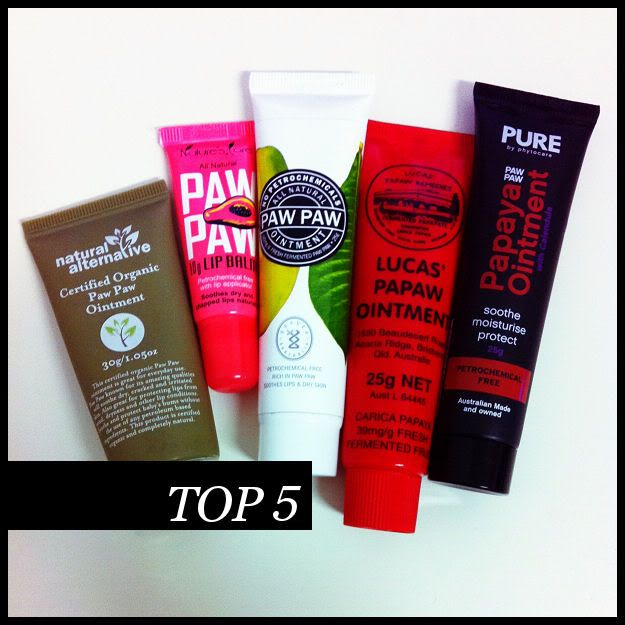 READ MORE
---
Hello everyone! I have another one of those "haul" posts. (I was really trying to avoid calling it a "haul", but whatever.)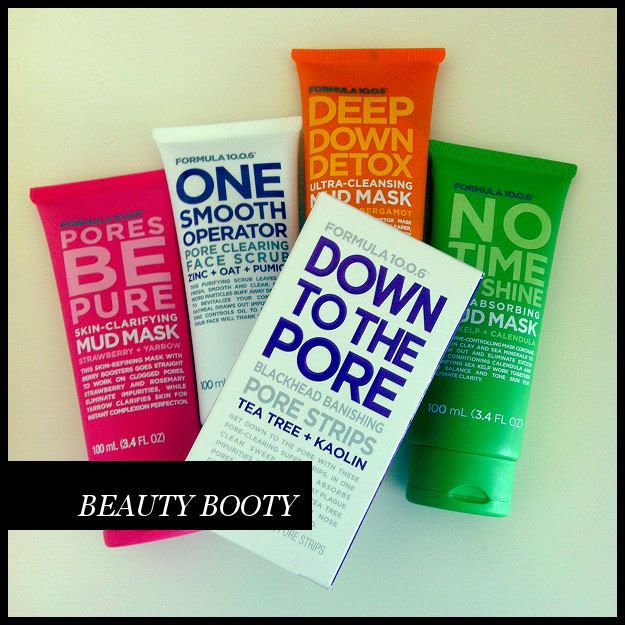 READ MORE
---
I hardly ever do posts like this and to be honest I really didn't know if I should.
All my life I was taught that you earn the things you want and so things like wishlists never really existed growing up. My dad was the one who said that it's best not to want anything, so when things you do want land in your hot little hands it's more of a surprise. It also makes you a lot more thankful too.
So, this is sort of a wishlist/things I'm going to buy next kind of thing. By no means I don't want people who buy these for me as gifts and I'm not being a brat saying I want these right now.
This is my first and very small wishlist…
READ MORE
---
So, if you didn't know my favourite scent in the entire world is Sweet Pea and Jasmine. It kind of explains why my signature scent is 'L' by Gwen Stefani. It doesn't entirely smell of Sweet Pea & Jasmine, but I know that it is one of the elements to the Gwen Stefani perfume.
The other day I went shopping and bought myself some Ecoya products I've had my eyes on. Ideally I would have loved to buy all of the Ecoya Sweet Pea & Jasmine range, but this particular shop doesn't stock them all.
So, these are the things I picked up…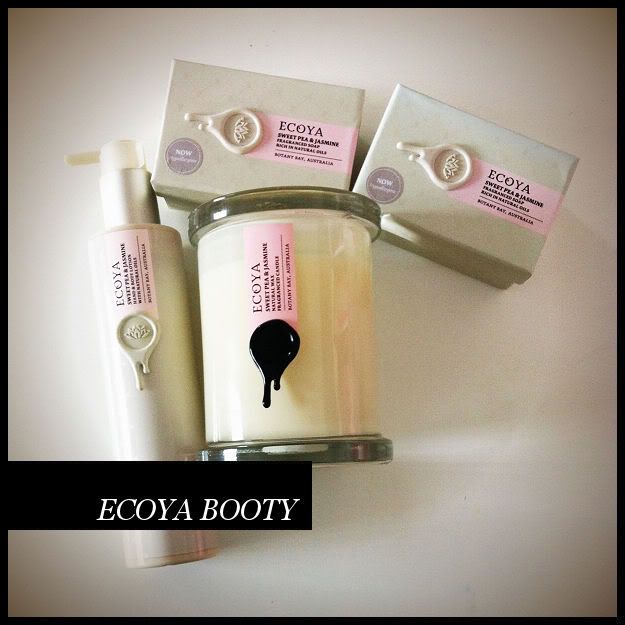 READ MORE
---
A month ago I went to Melbourne to visit friends for an extended weekend. It was a perfect excuse to get out of Sydney because it was a public holiday in Victoria and the boyfriend was out of the country for two weeks. So instead of moping around Sydney for a fortnight I decided to take myself for a bit of a holiday.
Being back in Melbourne was overwhelming. Although a lot of things had changed, Melbourne still had this presence and feel that I loved. I was over the moon about being back there. I checked in at every hotspot on FourSquare and took photos of everything I ate (which I rarely do unless I've cooked it myself) and went to all of the places I used to frequent at and saw all the people I had made friends with while I was living there. To top everything off, Melbourne had perfect weather. The sun was always high and warm, with not a cloud in the sky. I texted the boyfriend overseas saying that I didn't want to go back to Sydney. (I only half meant it, really.)
The main reason why I decided to go was for my beautiful best friend Zoe. I had met her on the third day I moved to Melbourne and have been in contact with almost every single day since. Zoe has always been my rock and I honestly don't know how I could have survived Melbourne if I hadn't met her.
Zoe and I had planned to go shopping on the public holiday Monday to DFO South Wharf. In the years I had lived there it was probably one of the only shopping destinations she and I didn't go to.
Another friend of mine Jacqui joined us that day and while they both were delighted to run through shops and pick out things they liked, I breezed through each store and not feeling the rush of beautiful items at discounted prices.
"Did you like anything?" Zoe had asked on our way out.
"No…" I sighed, wishing and hoping there was something I could have seen on the way out that made me want to pull out my credit card.
By this stage we had gone through about seven different stores. I'd get all excited when I'd see their bright neon lights on top of the door way. "Oh my gosh! BURBERRY!" and "Oh wow! Peter Alexander!" and "They have a Mimco!" But once inside, there was no excitement. I was suddenly deflated and the second I walked into the store I knew I wasn't going to buy anything.
By the end of the day I left with only two items: a chain headband and a new wallet. What suddenly happened? Did my inner Shopaholic mojo lose its libido?
I remember thinking to myself, Why do find everything in here distasteful? Surely I hadn't become a shopping prude, did I?
Earlier that weekend Jacqui and I went to the Bardot outlet store in Abbotsford. Now, I have to admit that I don't really like any Bardot's clothing. They're not bad nor expensive nor tacky. It's just never really suited my style and so it was the last retail store I'd ever visit.
I often get laughed at when I talk about "growing up". I have a lot of friends who are around the same age as me, if not older and when I start a sentence with "I'm getting older now…" I usually wait for the 'Is she serious?' head shake.
It's my mother's dream come true when I start dressing like "a lady"; something I've tried to defy ever since I had a say what I wore on my back. Much to her disapproval I wore what I liked and even when I tried to go along with her requests, there was always something she didn't like, whether it was the item of clothing was black or my choice of accessories.
Everyone has a style and thanks to my mother I don't seem to have a set one. It fluxuates from sensible to tomboy to ladylike to punk and now that I'm getting older I don't want to wear the clothes I used to when I was in my early-20′s – part of the growing up I was talking about.
So, what does this have to do with losing my shopping mojo?
Simple. I don't know what the hell I'm shopping for. It takes some time to get used to shopping for a new style after years of not really having a style identity.
These days I opt from clothing from Country Road or Just Jeans. Even Alannah Hill if I can afford a piece of her clothing.
When I moved back to Sydney and unpacked my clothes I had so many different pieces that didn't at all made sense. I had plaid and studs (punk phase), black lace and leopard print (rockabilly phase), white and pastels (ladylike phase), blue and white stripes (nautical phase) and plain black and white tanks (tomboy phase). I really needed to pick something I was going to fit in to heading into my thirties.
I don't know why I cared so much about how much mother disapproved my choice of attire growing up. I should have been happy with what I wore because, a) I was comfortable and b) I was just being me. I don't know why my mother didn't see that either.
Since I've come back from Melbourne I'm still having a bit of an identity crisis. I know what I like at this age but it's just a matter of finding it and being able to wear it right.
This year one of my goals is to rock denim jeans again, just like I used to when I was twenty-one. But this time sans ripped knees and slashes under the left butt cheek, right?
---
So, this trend is old (it was huge around August 2011) but I've been seeing it a lot around the web lately. It's hair tinsel.
I think it's nice and without going too overboard, it could give hair an extra bit of sparkle to it.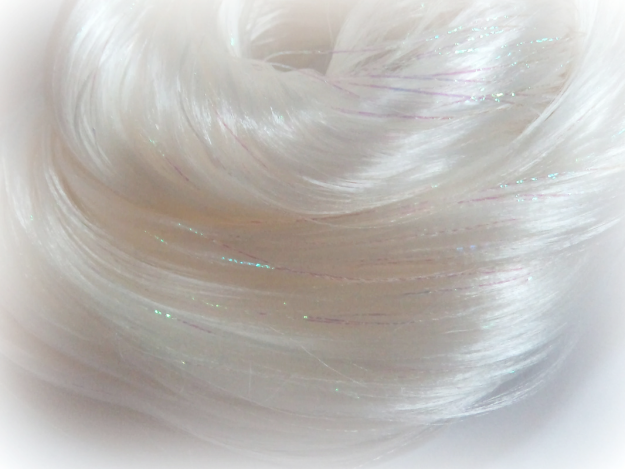 Kind of reminds of me this…

---
I love cute and unique stationary. I'm a huge fan of Kikki-K, and I love coming across equally beautiful stationary. This month I'm in love with this Australian-based company Peace, Love & Letterpress.

READ MORE
---
I'm currently in love with Sleek's Pout Paint in 'Pinkini'.
One of my best friends bought this for me while she was holidaying in the UK for a few weeks last year. I was meant to do a battle of the brands with OCC's Lip Tars but never got around to them.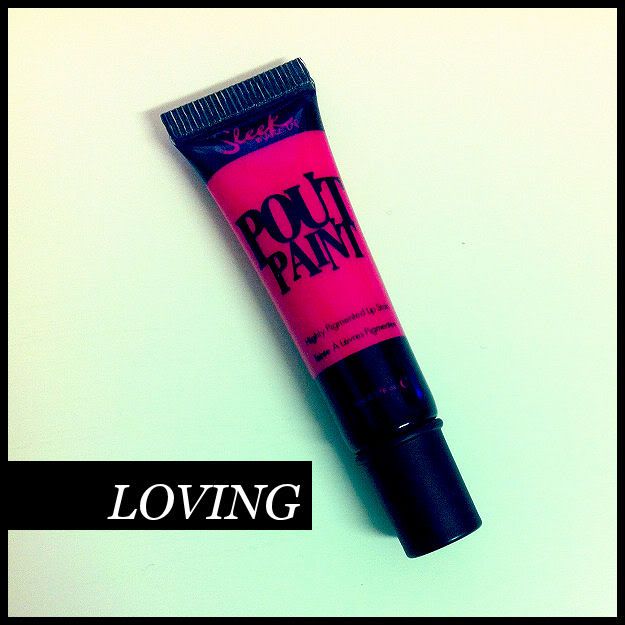 Personally I like these slightly better than the Lip Tars only because of it's texture. While the Lip Tars are great in pigment, I find that the Pout Paint is slightly thicker and doesn't feather too badly. Of course, it is still advised to wear with lipliner but you can honestly get away without it if applied evenly.
I've been wearing this more than any lipstick or lip colour.
Available at SleekMakeup.com for $8*
* – Price may vary.