---
It's the end of the month, so you know that means…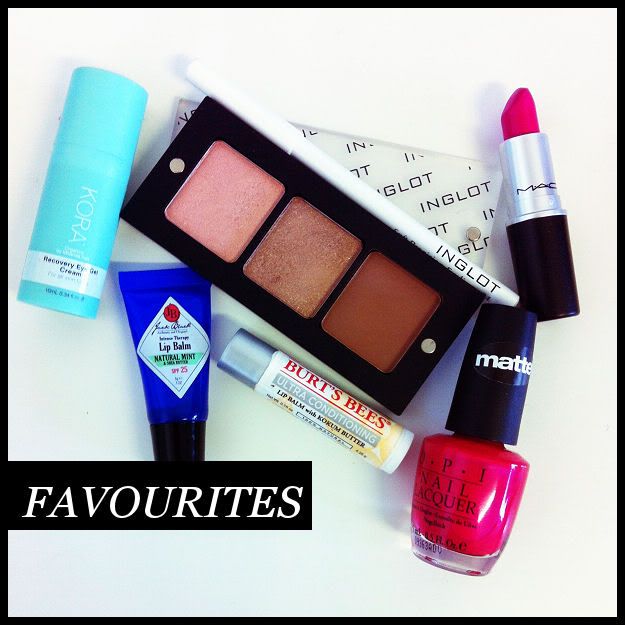 KORA Organics Recovery Eye Gel Cream
Pretty much the most amazing eye cream I have ever used. It is on the expensive side but like all creams a little goes a long way. I apply this under my eyes before I apply moisturiser and it really helps the eyes look less puffy and more awake.
Inglot's Freedom System 3-Palette
Shades: Matte 357, AMC Shine 31 and Pearl 397.
I use these pretty much every single day. I use Matte 357 in the crease, AMC Shine 31 on the lid and Pearl 397 as a brow highlight. I am thinking about buying a 4-palette which includes my brow colour.
Inglot's Soft Precision Eyeliner in #31 (White)
I've been in search for a simple white matte eyeliner for ages! So many people recommended M.A.C's 'Fascinating' which I just rubbished because I did a swatch of it and it wasn't what I wanted.
Inglot's Soft Precision Eyeliner #31 is my new favourite and if anyone is looking for a white eyeliner – this one is it!
M.A.C's 'Quick Sizzle' (Matte) from the Shop Collection
OK, I will admit that this isn't my favourite fuchsia lipstick of the month, but it is the one that I've been wearing a lot. It's not different to any other M.A.C lipsticks; they're overprices and this particular shade was meant to be matte but I don't think someone forgot what the definition is.
OPI's La-Paz-itively Hot Matte Nailpolish
I do like matte nailpolishes, particularly if they're bright coloured like this. It is very different you can add great designs with clear top coat over it.
Burt's Bees Ultra Conditioning Lip Balm with Kokum Butter
This is the brand new lip balm Burt's Bees just released and I am in love with it!
I will just say that is it a little thin compared to the other Burt's Bees lip balms and you will have to re-apply more frequently but it amazing. Definitely worth trying out and a bargan at $7.
Jack Black Lip Balm in Natural Mint
So, of course I'd grab this one because it's mint, but this is by far the best lip balm I've ever used. Unlike some lip balms they usually just linger there til you either eat it or wipe it off, Jack Black lip balm is absorbed and melts onto your lips.
I just add a bit just before I do any makeup so by the time I finish moisturising and applying my eye makeup all of the lip balm is absorbed, leaving your lips soft and smooth.
1. Katy Perry – Part of Me
2. Adele – Set Fire To The Rain
3. Angus & Julia Stone – Big Jet Plane
4. American Mouth – Flightless Bird
5. Sia – You've Changed

This album has been on my iPod all month!
1. White Rose from T2
2. Visiting Melbourne for four days
3. the colour, Cyan
4. Etsy
5. Face masks