---
Let me start off by saying that I will be only mentioning ONE beauty box's name in this post. I haven't really been one of those people who like to "name and shame" so I'm going to leave this to your own suggestion.
Also, I wanted to just state that: I am NOT being paid or compensated for writing this post by anyone.
I was reading a few box reviews and watching open box videos on YouTube by fellow Beauty Vloggers/Bloggers and I was inspired to do this because I'm fairly certain there aren't many of these "recommendation" posts floating around anywhere, or least I haven't seen any of them.
Over the last several months I've subscribed to about four different beauty boxes. Some have last one month, others about 3 or 4 months. As I see it, if I'm not impressed by the content of the box in two months, they aren't worth my money. Sure, $15 isn't that much money and I actually spend more than $15 in a week on coffees alone but the whole idea of getting a beauty box is to try different range of beauty products – things that you will actually use in your day-to-day routine.
OK. So when you sign up for these boxes you usually get to do some sort of profile so the box knows what kind of products to send you, right? But there have been some boxes who just don't even try!
Regular readers of this blog will know that I LOVE my lip products and skincare range and most of the profiles I've made have been just that. Nothing has changed; lip products and skincare are the top two interests of mine.
One box sent me just sunscreen, along with other products I'd never use because those companies test on animals.
Really?
I mean… REALLY?!
The only even remotely skin-related product was sunscreen. No other samples. Just sunscreen. So I pretty much just paid $15 for suncreen which is more than the recommended price at say… Coles or a chemist.
I went through the other products I was sent too. None of it interested me because like I said, companies that test on animals or weren't animal-friendly.
The whole purpose of a beauty box was to sample different things and break out of the little beauty box you've created for yourself over the years. (I am guilty of it myself!)
That box went straight into the bin. I didn't even want to pass on its contents to any of my friends.
Other beauty boxes do try but most of the time, I'll give them props for that. They do try but I find that sometimes – just sometimes – they just throw something in a box just for the sake of it. It's kind of like you going to places like the Easter Show, The Royal Melbourne Show or Ekka and buy those showbags and that have magazines, cans of Coke, Bertie Beetles, tons of lollies and you're super-excited about it til you pull out a sample of foot cream for cracked heels. It's like… way to kill my buzz, Buzz Killington!
But the ONE box that keeps surprising me over and over and over again is…

I've never had an issue with this box, ever! With every box they've sent me I'm always excited about opening it because I know they'll deliver on their contents.
A few weeks ago I made my own little purchase from the Bellabox website. I didn't receive it in my Bellabox but I heard from a friend of mine who did that a product she received was something I needed to try out myself. She knew that I loved skincare and particularly ones with the scent of citrus. She suggested that I buy the Sasy n Savy citrus hand cream from their online store.
So I jump on their website and purchase it. While I'm there I make an impulse purchase of the MeMeMe Poppy Tint – Cheek and Lip Tint on the way to the checkout.
About a week later I receive it while I'm at work. I have that excited feeling when I see the mail bag it comes in with the Bellabox logo all over it.
I go to open it and instantly cut my finger. A very minor cut but nevertheless I felt like the bag just bit me.
I look inside and all I see is just product all over in the inside of the bag. Carefully I put my hand in there again and pull out the hand cream. It is covered with product.
When I managed to take out the rest of what was inside – after a couple more times of cutting myself – I realised that the lip tint had smashed in transit thanks to the ever wonderful Australia Post.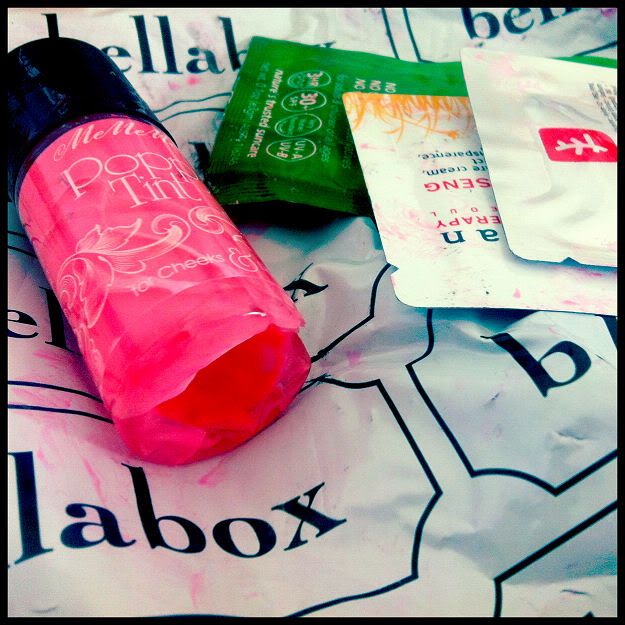 Much to my disappointment I quickly posted a pic on
Twitter
and a few hours later Bellabox had replied back giving me an email address I could send a report to.
Now I am extremely grateful for how Bellabox handled this situation so professionally. It is known that up to 70% of companies will ignore customer complaints on Twitter (nice to know) but Bellabox clearly doesn't fall in that 70% statistic and offered me a resolution.
I ended up writing an email to them and attached the photos I took with it and left it up to them to decide what they wanted to do. At this point, I was so impressed that if they didn't offer me a replacement and just got my money back, I'd still go back and purchase something else from their online store. It wasn't their fault that the mailman threw my package around like it meant nothing.
But even after I had sent that email off, first thing on Monday morning I received notification that a parcel had left their office and was on it's way to me.
A few hours later I even got a lovely email from a woman named Bridget saying that they were sending me a replacement. So, I got my replacement product sent to me before I was told I was being sent a replacement. How good is that?
A couple of days later I got the package – well wrapped and in one piece. I was over the moon!
I can't flaw Bellabox in any way. I am constantly impressed by their boxes and how well they treat their customers with respect.
Other beauty boxes take note: You want your customers to be happy with every purchase and keep subscribing to your boxes? Take a lesson from Bellabox. They know what they're doing.
And as for their online store; also flawless!
Thank you Bellabox! You are AMAZING!
You have a permanent subscriber in me.
Sign up for your monthly ($15 / month) Bellabox at BELLABOX.COM.AU. YOU WILL NOT REGRET IT!
(Australian customers only.)

RELATED POSTS: