MONTHLY ARCHIVES: February 2012
---
Wow, it's the end of February already?! February is one of my favourite months of the year. It's "The Love Month" because of Valentine's Day of course, but the weather is still bright and warm. It's the last month of Summer in the southern hemisphere too, so its when Aussies go out and embrace the last days of Summer.
So after today's post we are officially going into Autumn.
Here are the things I loved this month with all my heart…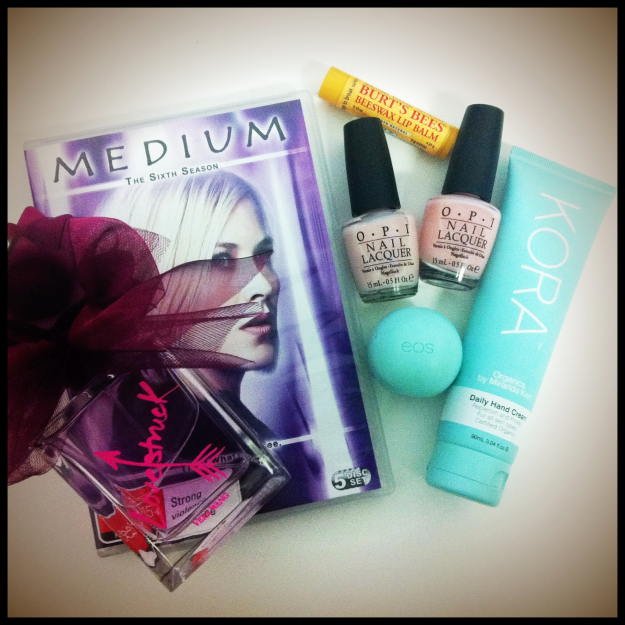 READ MORE
---
I was telling my best friend a few weeks back that I was dying for something new to read. It just so happens one of my favourite authors Zoë Foster had just written a book and was due for release at the end of February.
I quickly pre-ordered her new book The Younger man from Booktopia.com.au and in the meantime was looking autobiographies. I came across Tori Spelling's books and strangely became compelled to read them. I've never really thought much of her, but I thought it might be an interesting read… for the sake of reading I suppose.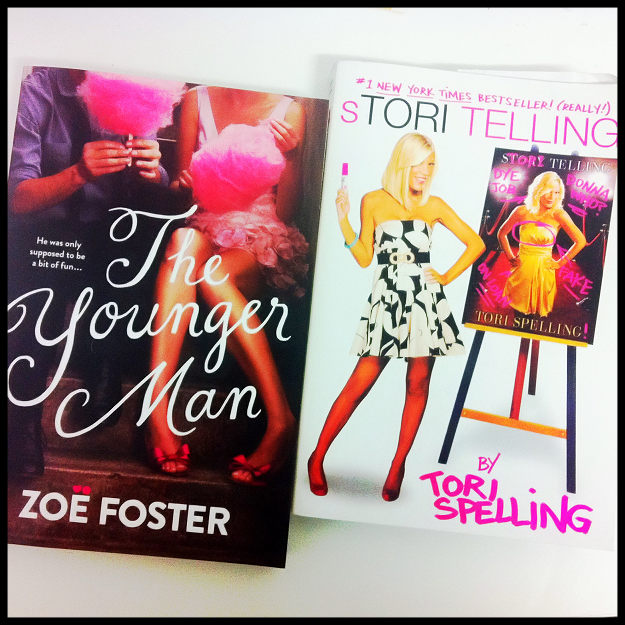 I got both books on Valentine's Day. My order came through and my boyfriend gave me
sTORI Telling
as part of my Valentine's gifts.
I've started reading Tori Spelling's booking first and at the moment I'm already 1/3rd of the way in. So far… it's OK. The first chapter makes her sound like she's a poor girl stuck in a rich girl's life. But its still early on. I've still got 3/4th of the book to go.
Very much looking forward to reading Zoë Foster's book though.
---
Hello everyone! I'm going to talk about a mineral mask I found several months ago but hadn't really tried til just recently. Its the Warming Mineral Mask from The Body Shop.
READ MORE
---
1. What's your favorite nail polish company?
I love OPI and Butter LONDON. OPI is just the go-to brand and you can find it pretty much anywhere with all different shades. And Butter LONDON because they're unique, flawless and vegan.
2. Glitter or no glitter?
Glitter is OK, but I like the subtle shimmer in the lacquer. I do own nailpolish that has big chunks of glitter, but I don't really wear them often.
3. OPI, China Glaze or Essie?
OPI, hands down!
4. When do you switch your nail polish?
Once a week usually. Even if I wear the same colour I will do a clean and file down once a week.
5. What is your favorite color on your nails?
Bright hot pinks and warm toned neutrals.
6. Darks or brights?
Brights for sure. Darks makes me look too gothic because of my skin tone.
7. What are you wearing on your nails right now?
NOX Twilight nail lacquer in 'Crush'.
8. Matte nails in or out?
They're interesting. I haven't tried them myself and I haven't seen many girls sport it. I don't think I could say they're in or out.
9. French manicure?
Yes, but they have to look natural. I can't stand nails that look too square. It looks odd and I refuse to believe that natural nails can ever be shaped that way.
10. Favorite winter nail polish?
Neutrals, warm reds or peach/corals for sure.
---

What is your most inexpensive product?
Probably Burt's Bees Beeswax Lip Balm. Around $6 and is so good for your lips.
What is your most expensive product?
Pretty much anything by MAC. It's so expensive in Australia. Lipsticks are $33!
What beauty item do you have the most of?
Lip balms, hands down! I have them all over the house and places I regulate, like my boyfriend's house, office desk and work desk. And it varies a lot.

What beauty product do you have a love/hate relationship with?
Tinted moisturiser. I use KORA Organics Tinted Moisturiser and I love it because it has sunscreen in it but at the same time I don't like the tint in it. The tint is fine and works well with my complexion but just sometimes it gets on my nerves.
What has been the hardest to find?
OCC nailpolishes! OCC doesn't ship nailpolishes to Australia and there aren't many online stores that stock OCC, let alone their polishes. Someone please ship OCC to Australia!!
What is your biggest beauty pet peeve?
There are a few but I can't stand girls who over-puck their eyebrows. I don't get it. Thin eyebrows makes you look older. So a beautiful 17 year-old girl with thin eyebrows can easily look 37. Also I can't stand when girls wear heavy eye makeup and a bold lip colour. One of the first rules of makeup is to not over do it; pick either your eyes or lip to make a statement on and make the other subtle. So, if you're going for a smokey eye, dull down the lips with a nude. Or have light makeup on the eys and brighten the lip. Not both at the same time.
What are your most delicious beauty products?
I like the NYX Soft Matte Lip Cream. I find that it smells like cupcake batter. Other than that I love anything that smells like watermelon.
What beauty product can't you get enough of?
KORA Organics. I swear by the entire skincare range. I particularly love the daily hand cream, the lip balm and the purifying day and night cream.
What beauty product use the most?
Lip balm. I always feel the need to have something on my lips.

What beauty product do you neglect due to laziness?
It's not due to laziness, but because due to having a bad memory – sunscreen. There have been sometimes I've forgotten to apply it because I'm in a rush or something, but I normally do wear it. It is extremely important to wear especially when you live in Australia.
What beauty routine do you find the most challenging?
Getting waxed and my hair cut/coloured. Again not because of laziness but to find the time to get down to the salon to get all that stuff done.
What beauty routine are you guilty of not doing properly?
Foundation. I can't do it to save my life. Lucky for me though, I don't need to wear it most of the time. And because I don't have to wear a lot of foundation I haven't really bothered to learn how to perfect it.

What beauty product gives you the most confidence?
A really nice eyeliner. Doesn't matter if its liquid or pencil, it just has to be good and something I can work with and won't melt off my face.
What beauty product do you swear by?
KORA Organics, Burt's Bees and a really good lipstick. Good skin, good treatment and some colour. Can't go wrong there.
What beauty product do you insist on having in your makeup bag?
There's a few. Burt's Bees Beeswax Lip Balm, a lip liner and a lipstick. Also, a small travel case of makeup wipes aren't bad either.
What attributes do you find most attractive about the opposite sex?
This isn't really a 'beauty' question, but I'll still answer it. I'm going to sound so weird when I say I love guys with nice straight teeth. So many of my friends don't understand it but dental hygiene is a must for me.
What is the one product you can't live without?
A good skincare range. I can live without the colour and the grooming, but unlike the makeup my skin is something that I'm going to be living in for the rest of my life, so its best to look after it.
What beauty product is your most loved?
Besides my Burt's Bees, I love KORA Organics Daily Hand Cream. I can't get enough of it. The smell, the texture and how it makes my hands feel afterwards. Love.
What item would you most like to receive as a gift?
I'd love to get some OCC nailpolishes. Particularly Pool Boy. Also the Naked2 palette by Urban Decay.
What beauty product do you wish you could pull off?
A nude lipstick. Any sort. Pinky nudes, peach nudes… I wish I could pull any of them off but I can't. Kinda sucks when you're entire face is monotone.
What beauty attributes do you wish you had?
I don't really wish I had anything. I mean, I work with what I got. But I would love a pretty beauty mark like Marilyn Monroe or something like that. And NO, getting a Monroe piercing is not an option because I hate surfave piercings.
---
So… Happy belated Valentine's Day to everyone. I went MIA for the last few days because I was spending my Valentine's Day with the boyfriend and then got wrapped up in transferring all my posts from one blog to another.
Hopefully now everything will settle down and go back to normal.
Here are a few photos…


the amazing meal

part 1 of our dessert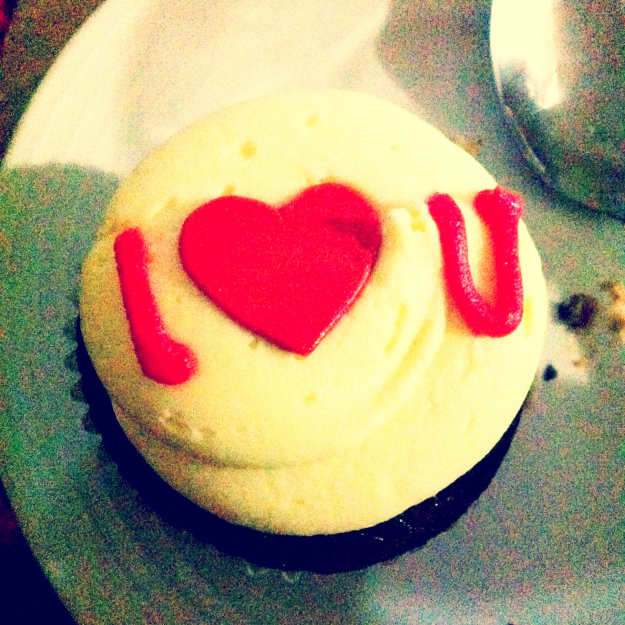 part 2 of our dessert

the card I made for him
(yes, I made it.)

Andre was there too
My man did so well too. He didn't get me flowers or heart-shaped chocolates or wrote a card. He got me PRESENTS! So it was like Christmas but on February 14th! ♥ He's been my Valentine two years in a row now and it won't be the last.
Hope everyone had a great Valentine's Day!
---

Welcome to
REESEATOMIC.COM.AU
– the new slice of the interwebs for yours truly.
I know that a lot of people will questions why I changed – again!
Well, I found that with owning a beauty blog readers just wanted to read about beauty products. They didn't really want to know who I was and why I did what I did and why I enjoyed doing it. I felt really restricted in my writing and I didn't want to work like that – I don't work like that.
Also, though the friendships I've made through Twitter, YouTube, emails and IMATS, I always got requests to do posts on myself and my personal life. But of course, with the restriction of just being about beauty products I was limited to having personal things being said on Twitter… in 140 characters or less.
At least with this new website I won't feel so limited in what I write about. I can write about pretty much anything without the fear of losing and boring readers.
All the same stuff will be here though: product reviews, monthly columns, beauty boxes and monthly favourites. I'll also through in some new stuff along the way too which aren't beauty related.
I'll be importing a few posts over from the old website. Not all of them, but most. It will take a little while for them all to get back online, so please be patient with me.
See you all soon!

---
I often get asked how I find my favourite beauty products and how I go about buying them. I get a ton of emails and tweets every week asking how I came across certain brands and scents and with every time I get asked my answer is always the same: It was completely my accident.
Now I know that's probably not a very helpful answer to hear. I know if I was told "By accident!" I'd just sit there dumbfounded going, "Well, that wasn't very helpful. What am I supposed to do with that sort of information?" But unfortunately that's the sad reality of it. I really do come across the best beauty buys by complete accident. As much as it's such a stupid answer.
I work an extremely boring day job. I've been in the same industry of work for a decade; dedicating my time and effort for other people and more often then not they're very ungrateful people. People who take no value to their lives, which is extremely sad. It often frustrates me that people don't appreciate the quality of life that they're given, so instead of telling them of all the mistakes they've been doing – I lead by example and do something nice for myself or my family and friends.
On most days after 4:30PM you will see me walking around aimlessly in Pitt Street Mall, in the giant Westfields in the city, QVB, Oxford Street Paddington and even the Bondi Junction Westfields that most Eastern Suburbs people love to hate.
Although there is no real plan to buy things on most afternoons I do like to window shop. I know the where the shops are; I know what they sell, their price range and there is absolutely no harm in looking. And believe it or not, I really do "just look" at things.
But it's through this aimless window shopping I remember certain shopping landmarks. I know if I'm in need of a new wallet or handbag, there is two Strandbag stores near Town Hall. I know if I'm looking for Havaianas and a beach towel General Pants is right on Pitt Street Mall. And if I'm running out of my body lotion, hand cream or cleanser KORA Organics is right down Elizabeth Street and on Level 4 north end of Westfield Bondi Junction.
I will admit that sometimes my memory will get the better of me. I do forget sometimes where I am and how to get there.
I have recently moved back from Melbourne after living there for almost three years. There have been so many times where I sit at my desk and think to myself, "I need to go down to Bourke Street Mall and then to Melbourne Central to buy this…" and then I realise, "Oh wait. I have to find that store on Sydney co-ordinates." D'oh!
About a week ago I got asked how I managed to score Too Faced Shadow Insurance when Too Faced don't ship to Australia and there are few and far between available on eBay. Kit Cosmetics sell them – Kit beauty counter at Myer.
How did I find this out? By accident. The Kit Cosmetics counter is right next door to Illamasqua in Myer and of course, I've been to every single counter there and I remember.
A few weeks ago I was asked how where I found scented nailpolish. Again, by accident. I was writing a piece on my Top 5 pink lipsticks and of course I don't stay in one section of a counter or store when I look at products. This particular store had everything! Lipsticks, eyeshadows, handbags, clutches, coloured contacts, foundation, even makeup brushes.
I do two laps – sometimes three – before I head over to the front counter to pay for my items. The happy laps aren't always to make sure I've bought everything I want, it's to keep record in my file of beauty in the part of my brain so I know where certain brands and products are sold so next time I need to buy something, I know exactly where to go without wasting too much time. Things like colour, finish and scent is something I debate when I'm actually in the store before point of purchase.
Although I find my favourite beauty buys by accident, I will admit there are many times I get things wrong. I actually get more things wrong than I do right. For instance, I was looking for a matte taupe eyeshadow a few months ago and I instantly went to a MAC counter in the city, thinking that they have more neutrals than brights. I swatch the perfect shade, take it home and of course the colour pay-off is below standard.
Note to fellow shopaholics: If you're looking for eyeshadows DO NOT GO TO MAC. They cost too much – that fail eyeshadow I bought was $33 and I had only used it once. There are awesome eyeshadows out there with better colour pay-off: Bobbi Brown, Illamasqua and Inglot are the best alternatives I've found. Don't settle for a MAC shadow just "because it's MAC." MAC are good other things like lipsticks, foundations, brushes, etc. Just not their eyeshadows – its complete rubbish. Go elsewhere!
So, now you know my shopping is really indeed by accident. I see, observe, remember and make a lot of stupid purchases before I find the perfect product.
Til next month…
---
Hi everyone! I got asked this on Twitter recently about how I do my nails.

I just want to start off with saying that my nails really suck! They're extremely thin (thin like paper) and they split
constantly!
So most of the time I wear fake nails.
I don't go to the nail salon and get them done because I'm allergic to the acrylic liquid (I'm sure there's a proper name for it) they use with the powder to fill in the nails.
I find that they the DIY nail routine I do doesn't last as long as the one in the salon (mine last a week) but it doesn't bother me. I usually do my nails whilst watching TV on the weekends.
So, this is my basic nail and hand routine. Takes all of about 30 minutes to do whilst watching TV and sipping my morning coffee.
---
Hi everyone. It's that time of the month when the monthly boxes are sent out to subscribers! Yayyy!

READ MORE