---
So I got a lot of requests asking what my top 5 favourite hot pink (fuchsia) lipsticks were because it's common knowledge that it's my colour of choice when it comes to lip colour.

These are in no particular order.
1. M.A.C's Amplified lipstick in 'Girl About Town' ($36)
This is pretty much what I wear every single day and fall back to when other products aren't working for me.
For those who end up looking for this shade, it's part of the Amplified range
and
is also M.A.C's brightest and intense pink lip colour.
I find that you don't have to wear a lip liner with this and I usually don't, but if you're wearing it out on a special occasion of course use your own discretion.
Good lip liners that go well with Full Fuchsia is NARS' lip liner in 'Funny Face' and if you can't get your hands on NARS (or don't want to spend the money on it) Australis make a pretty pink lip liner called 'Kiss Me Quick' and costs less than $10. (Check your local Priceline store for availability.)
2. CHI CHI's Viva La Dive matte lipstick in 'Bimbo' ($18.95)
Probably the best hot pink matte lipstick I've ever come across. There have been times where I just want a matte, no gloss lipstick and this works perfectly for me.
Although it is matte it doesn't dry out my lips. It does, however, make your lips flake like crazy if you don't use a good lip base or condition your lips prior, but by doing so it doesn't make it matte.
Overall it still works whether you apply it straight on your lips alone or with some lip balm underneath. I actually really like having a mint lip balm underneath and then add any matte lipstick on top of it so it feels like an OCC Lip Tar and it doesn't feel dried out.
I also find that by applying it with a lip brush it helps apply the product evenly because it is matte and tends to tug at the skin a little.

3. Urban Decay's Super Saturated High Gloss Color in 'Crush' ($22)
This one isn't as fuchsia as the others but its just as good.
It's nothing new that I am a HUGE fan of Urban Decay. I particularly love their eyeshadows (which is a totally other post) but this was one product that I had always wanted to buy but since Urban Decay didn't ship to Australia and there weren't any online stores who supplied them, I had to wait til one of my best friends went overseas and ended up buying me this one along with some other Urban Decay products.
This product surprised me. It's a pencil that acts like a lipstick. It applies smooth and it's not matte but glossy without feeling sticky or gooey.
The only downfall is that you have to sharpen it, which means you lose a lot of product. But if you're super smart you can save it and put it into a pot somewhere and use a lip brush instead.
This product also feathers a little so best to apply with a lip liner prior to application.
4. M.A.C's Pro Longwear Lipglass in 'Full Speed Ahead' ($43)
Probably another shade I fall back on when I'm not in the mood for anything else. But unlike Full Fuchsia this is gloss, which is super thick.
Full Speed Ahead Pro Longwear Lipglass was part of the Styledriven collection which then become part of the permanent collection and I was glad it did because this colour I instantly fell in love with.
I've never really been a lipgloss kind of girl but this is one I highly recommend.
But like every lipgloss it is a little sticky and will bleed if a good lipliner isn't applied. I suggest M.A.C's Pro Longwear Lip Pencil in 'More To Love' which was also part of the Styledriven collection. More To Love is a matte lip pencil that's like a red wine shade and when put together with Full Speed Ahead it gives great depth and blends really well.
5. Obsessive Compulsive Cosmetics (OCC) Lip Tar in 'Anime' ($14)
This was the first Lip Tar I ever bought and when I first put it on my first thought was, "This is
too
pink for me!" I couldn't believe what I was saying!
I love Lip Tars and I honestly the inventor is pure genius! I love the idea that you use very little product and it gives such high pigmentation and coverage.
I especially like the fact that it has a slight mint flavour to it. (All of them do, regardless of colour.)
The only downfall of this product is that it bleeds/feathers like crazy so its very important to use liner and let me tell you it is very difficult to find the right lip liner for Lip Tars. But there is a clear lip liner by Urban Decay 24/7 Glide On lip pencil in 'Ozone', where it goes on clear but still prevents feathering and makes your lip product last longer. So Ozone can be used with pretty much
any
lip product.
I also find that Lip Tars also dry out your lips really easily, so it is also very important to apply some lip balm first. If you want it just have that matte finish, I find that applying lip balm first before starting any of your makeup helps so by the time you're done with eye makeup the balm is all absorbed.
SWATCHES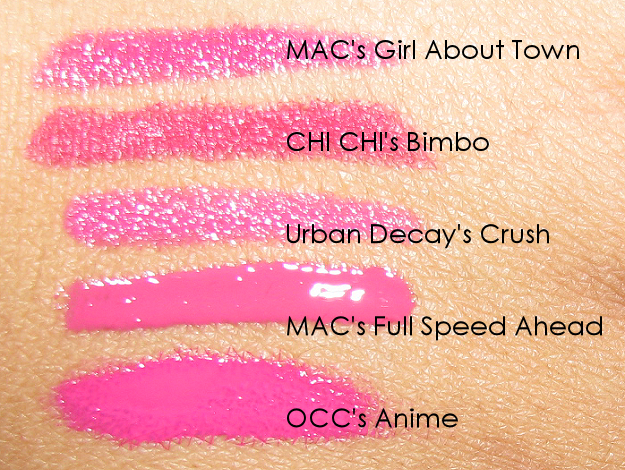 Prices are what I paid in Australian dollars.

RELATED POSTS: